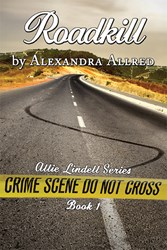 Move over Kinsey Millhone there is a new and much more interesting detective in town.
Dallas, TX (PRWEB) August 15, 2013
The time for Roadkill is now. Pop culture has helped shine a much needed spotlight on the inequalities that many LGBT individuals face every day. Television has played its part in starting equal rights conversations with shows like Glee and ABC Family's The Fosters, which recently featured a same sex wedding. Radio has also contributed with songs such as Mackelmores's touching and thought provoking "Same Love." Roadkill is poised to highlight these same issues for the literary world. The first in the Allie Lindell series, Roadkill introduces Allie, a typical stay-at-home mom of two toddlers and her quest to balance being a great mom and a loving partner with the need to have something of her own, which in Allie's case, is solving mysteries. The twist of this mystery novel is the fact that Allred made Allie a lesbian. As is true to real life, Allie faces many of the same struggles and issues that a heterosexual woman would while trying to juggle family and career. Potty training woes, trouble balancing work with family and seeing eye-to-eye with her partner, Rae Ann, are just a few issues most people can identify with. "Therein lies the beauty of Roadkill," says Jenny Pedroza, director of marketing for The Writer's Coffee Shop Publishing House. "Roadkill is not only a great whodunit, but by making the lead character a part of a same sex union, Allred has created a timely book of great social importance."
Smart, fun, hilarious, and timely, Roadkill explores the following themes:

the often over-looked struggles of being a stay-at-home mom
gay or straight, couples have growing pains as they try to adapt to life with children, work,
and financial responsibilities
Roadkill is set to release Thursday, August 15th and will be available on Amazon, B&N.com, iTunes, Kobo and from The Writer's Coffee Shop Publishing House.
Roadkill Summary:
Someone is killing young women and dumping their bodies along the rural roads outside Columbus, Ohio, and Allie Lindell is determined to find the killer.
Roadkill is the first in a series in which a former journalist and at-home mom discovers she has a knack for investigating murders. While she misses the crazy deadlines and adult conversations, she also wants to stay home and care for her babies. But when an old friend from The Columbus Dispatch calls with an intriguing job opportunity, Allie jumps at the chance.
With Disney tunes, tantrums, and potty-training woes on her mind, she must learn to juggle the highs and lows of a family and a newfound career. This is the funny, sometimes aggravating, ultimately heartwarming story of a woman trying to give everything to her kids, keep the love of her partner, and not lose herself in the process.
About the Author:
Alexandra Allred is a former national athlete and adventure writer turned humorist and fictional writer. She's often been called the next Erma Bombeck with a grudge. Her annual Christmas letters, which have frequently made the news, could make the Grinch weep with joy.
Allred is an avid runner (though not a very good one), frequently testifies in Washington D.C. on environmental issues, is an advocate for Clean Air, and loathes people who illegally park in handicap places.
She currently lives in Texas with her husband, three children, and array of happy animals.
Connect with Alexandra Allred
Facebook: https://www.facebook.com/alexandra.allred.3?fref=ts
Website: http://allredbooks.com
Twitter: @alexandraallred
About the Publisher:
The Writer's Coffee Shop Publishing House is an up-and-coming independent publisher based in New South Wales, Australia. They recently gained a great deal of attention with Fifty Shades of Grey, the international literary sensation they released in June 2011 and is now represented by Random House.
Launched in October 2010 with the vision of working alongside talented authors while providing quality e-books to the growing marketplace, TWCS publishes a wide range of fiction titles and is sure to have something for any appetite.
Connect with The Writer's Coffee Shop
Website: http://ph.thewriterscoffeeshop.com/
Facebook: http://www.facebook.com/pages/TWCS-Publishing-House/119328354791583
Twitter: @twcs_pubhouse
REVIEW COPIES OF ROADKILL ARE AVAILABLE UPON REQUEST