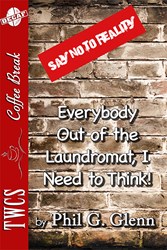 Sydney, Australia (PRWEB) August 28, 2013
Breaking the moulds of the publishing world with the chart topping erotic romance, Fifty Shades of Grey, wasn't enough for this "little publishing house that could." It seems that just when the public has recovered from the first revolutionary publication, The Writer's Coffee Shop continues to push the envelope.
Their upcoming release, Everybody Out of the Laundromat, I Need to Think! by Phil G. Glenn, takes a satirical look at the politics in Australian Parliament. Although set in "the land down under," this book's humorous message can ring true for people's complacency with all governments. The inspiration for his book stems from, "The frustration at watching politicians 'perform' with complete disregard to the public," says author, Phil G. Glenn.
Although there is a political overlay to the story, Phil G. Glenn is quick to point out that the book's message "should not be seen as political or otherwise; it is in every shape or form a comedy." Simply put, "I just want to put a smile on someone's face. Reading for reading sake which I think certain publishers have forgotten."
The Writer's Coffee Shop is no stranger to breaking moulds, and as Cindy Bidwell points out, "We are excited to be able to bring a bit of Aussie humor and fun to the world."
A fun-filled read that will have readers taking a better look at the political figures around them, Everybody Out of the Laundromat, I Need to Think! explores:
The reader's place in the world;
According to governments, the universe, the Earth, and all living things are completely irrelevant compared to a good election victory;
If a person tries to change who they are, they might just succeed and not like who they have become.
Everybody Out of the Laundromat, I Need to Think! will be available on August 29th on Amazon, iTunes, B&N.com, Kobo and The Writer's Coffee Shop.
About the author:
Phil is married to a beautiful wife, has one child and a healthy mortgage which, if all goes well, he should have paid off by the time he's 102 years old. He is passionate about the environment although in reality his only contribution is to put re-cycle items into the correct re-cycle bin however, time permitting, one day he would like to chain himself to a tree and shout out obscenities at loggers. Apart from his family he spends much of his time writing and is currently re-working a children's book that is so old he actually started writing it on a typewriter. He has a strong interest in politics but only from a cynical angle and, despite extensive counselling, still spends sleepless nights worrying about the world. Short of scraping the barrel and telling you things like as a child he hated broccoli but is now quite partial to it, there is nothing else to tell you worthy of note.
About the Publisher:
The Writer's Coffee Shop (TWCS) is an, independent, Aussie publisher which was founded in Hornsby, New South Wales. TWCS first released Fifty Shades of Grey. After it had topped the bestselling e-book chart in the U.S. and sold countless copies across Australian and U.K, Random House bought the rights. TWCS are passionate about discovering new authors and giving them the chance if the book is right.