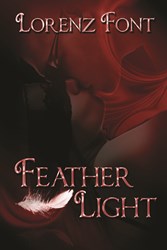 He is the perfect hero. Who doesn't want a sweet guy that can take away all your problems with the touch of his hands?
Los Angeles, CA (PRWEB) October 10, 2013
On October 10, 2013, The Writer's Coffee Shop Publishing House – yes, the same publisher that brought the international sensation Fifty Shades of Grey to market, will release the next wave of sexy in the form of Parker Davis in Lorenz Font's Feather Light.
Readers are falling in love with Parker's feather light touch as the sensitive and sexy blind masseur. "He is the perfect hero. Who doesn't want a sweet guy that can take away all your problems with the touch of his hands?" claims reviewer, Missi Reynolds. "His flaws make him even more real. As far as book boyfriends go, he is top of the list."
Kelly Storm, an A-List Hollywood actress, finds escape from the pressures of work and the paparazzi impossible until she takes some much needed advice from a good friend. Lorenz Font does an amazing job of capturing the feelings Parker brings out in Kelly during her first few appointments. "If you have ever had massage, you will react to the writing as if his hands are releasing the tension in your own body. If you have never had a massage, you will run to get one," says Ms. Reynolds of her reaction to the characters first meeting.
This heartfelt dramatic romance will have readers reeling as it explores not only the joy of finding new love but the insecurities and fears that we all possess. How these characters deal with these feelings is the beauty of Feather Light.
About the Author:
Lorenz Font discovered her love of writing after reading a celebrated novel that inspired one idea after another. She is currently enjoying the buzz from her debut novel Hunted, the first book of The Gates Legacy Trilogy and Indivisible Line, a romantic thriller. Her newest novel, Tormented, the second installment of The Gates Legacy, is now available for vampire lovers everywhere.
Writing is a therapy for Lorenz, and a perfect day consists of writing and playing with her characters while listening to her ever-growing music collection. She enjoys dabbling in different genres with an intense focus on angst and the redemption of flawed characters, and her fascination with romantic twists is a mainstay in all her stories.
Lorenz currently lives in California with her husband, children, and two demanding dogs. She divides her time between a full-time job as a Business Office Manager for a hospital and her busy writing schedule.
Feather Light is currently on Amazon, iTunes, B&N.com, Kobo and The Writer's Coffee Shop Publishing House.
About the Publisher:
The Writer's Coffee Shop (TWCS) Publishing House is an up and coming independent publisher based in New South Wales, Australia. They gained a great deal of attention with the June 2011 release for international literary sensation, Fifty Shades of Grey, now represented by Random House.
Launched in October 2010 with the vision of working alongside talented authors while providing quality e-books to the growing marketplace, TWCS publishes a wide range of fiction titles and is sure to have something for any appetite.
Website: http://ph.thewriterscoffeeshop.com/
REVIEW COPIES OF FEATHER LIGHT AVAILABLE UPON REQUEST