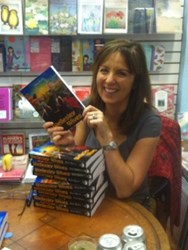 Meet Suzy Duffy at The Wellesley Book Store, located at 82 Central St. Wellesley, MA 02482.
Wellesley, MA (PRWEB) October 16, 2013
On October 17, 2013, Suzy Duffy and Wellesley Books will be celebrating the book launch of Newton Neighbors, a feel-good rom-com-romp through one of Boston's most desirable suburbs with Botox, Bollinger, fireworks, and fist-fights.
Suzy Duffy rocketed to bestselling status in 2012 with Wellesley Books when Wellesley Wives became a top ten hit. Now Duffy can think of nowhere else she'd rather launch her books. "Wellesley Book Shop is my good luck charm. I LOVE that store and the fabulous team that work there. My books may have gone global, but it all started there."
The global appeal of the ladies of Crystal Lake goes beyond the glitz and glamor of the location. Newton Neighbors is a joyful, life-affirming story that celebrates female fearlessness and intelligence. "Readers love Suzy's books because we can relate to these women on a personal level. These are our girlfriends and sisters. When they hurt we hurt, and when they laugh, we all laugh," says reviewer Sherrie Holder. "When you pick up a book by Suzy Duffy, you know you are in for good time."
Newton Neighbors is available on Amazon, B&N.com, Kobo, iTunes and The Writer's Coffee Shop website.
Suzy Duffy is an international and #1 bestselling author. Her work has been translated into German and Norwegian and she was a guest speaker at The Sydney Writers Festival in Australia earlier this year. A former national radio DJ and TV presenter in her native Ireland, she moved to Boston with her husband, five children and one dog in 2009 in light of Europe's economic downturn. Duffy's colorful background has taken her from working in the United Nations' Geneva headquarters to being a water-ski instructor in Greece to laboring as a corn cutter in the south of France.
Duffy's U.S. debut, Wellesley Wives, entered the Amazon Top 100 e-books within 10 days of publication. Newton Neighbors is the second book in her New England series of novels. She is currently working on the third installment, Lincoln Ladies.
Find Suzy Duffy on Twitter, Facebook, Goodreads, Pinterest, her website and on The Writer's Coffee Shop Publishing House site.
About the Publisher:
The Writer's Coffee Shop Publishing (TWCS) House is an independent publisher based in New South Wales, Australia. They gained a great deal of attention with Fifty Shades of Grey, the international literary sensation they released in June 2011 and is now represented by Random House.
Launched in October 2010 with the vision of working alongside talented authors while providing quality e-books to the growing marketplace, TWCS publishes a wide range of fiction titles and is sure to have something for any reading appetite.
Website: http://ph.thewriterscoffeeshop.com/