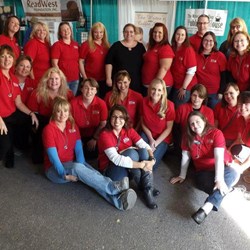 Stop by the Texas Book Festival and meet the TWCS authors in booth 420-421.
Austin, TX (PRWEB) October 22, 2013
Readers everywhere are gearing up to head to Austin, Texas to meet up with some of the bestselling authors from The Writers Coffee Shop Publishing House (TWCS). For the second year, authors will be meeting readers and signing books in Booth 420-421 in front of the Texas Capitol. Sandi Layne, author of this year's inspirational hit novel, An Unexpected Woman, is excited to be part of the fun. "I couldn't go last year, but I was amazed at the incredible turn out at the event. I can't wait to meet some of my readers from Texas." She joins authors Lorenz Font and Tara Ellison as this year's newcomers.
Young Adult readers are looking forward to getting their hands on the next book in The Gateway Chronicles Series by K.B. Hoyle and The Guardians, the next book in the hugely popular MORE trilogy by T.M. Franklin. Veteran and bestselling author, Sherri Hayes, has a large fan base in Texas and plans on seeing many returning friends to get their hands on the newest book in the Finding Anna Series titled, Truth. "Several readers have waited to get their print copies of the book until we meet up in Austin again," says Hayes.
The TWCS authors have very loyal fans coming from all over the nation to get a chance to meet them. Attending authors include: Gene Doucette, Lissa Bryan, Alexandra Allred, and Austin Native, Michael Schneider.
The festival promises to be a boot stomping good time, and it all starts with a meet and greet cocktail hour at The Book Stop in Round Rock, Texas Friday night, October 25th from 5:00-7:00 p.m.
Click here to learn more about the TWCS authors.
About The Publisher:
The Writer's Coffee Shop (TWCS) Publishing House is an up and coming independent publisher based in New South Wales, Australia. They gained a great deal of attention with the June 2011 release for international literary sensation, Fifty Shades of Grey, now represented by Random House.
Launched in October 2010 with the vision of working alongside talented authors while providing quality e-books to the growing marketplace, TWCS publishes a wide range of fiction titles and is sure to have something for any appetite.
Website: http://ph.thewriterscoffeeshop.com/