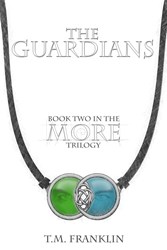 On November 9, 2013 from 1:00-3:00pm, readers can join T.M. Franklin for The Guardians release party at Barnes and Noble in Kennewick, WA. With door prizes and author signings, it will live up to being MORE than a party.
Seattle, WA (PRWEB) November 07, 2013
Erotica is a hot publishing trend, but Seattle author T.M. Franklin isn't jumping on the bandwagon, and doesn't plan to anytime soon, opting instead to pen Young Adult novels she hopes also appeal to adults.
"It's what I like to read," Franklin says, "so I'm convinced that it's true for others as well."
The Fifty Shades of Grey phenomenon sparked an erotica publishing whirlwind. A survey compiled by the Association of American Publishers and the Book Industry Study Group showed fiction eBook sales up 42 percent in 2012 from the previous year, netting $1.8 billion, due in large part to Fifty Shades and other erotic novels. A look at the top shelf at Target shows that the market has changed, opening the doors for steamy novels that probably wouldn't have been on display a couple of years ago.
"It's obvious that Fifty opened the door, not only for erotic writers, but for independent and self-published authors as a whole," Franklin says. "There are avenues open to us all that weren't there before 2012. It's an exciting time to be a writer."
But why Young Adult? In a genre traditionally relegated to a back corner next to the children's section of your local bookstore, it can be tough to make an impact. Still, Franklin has had success with her debut novel, MORE, with an average rating of 4.5 out of 5 stars on Amazon, and her short story, Window, made it to #2 on Amazon's short story bestseller list on its debut. Her second novel, The Guardians, is already garnering great reviews, even though it won't be released until November 7th. She's achieved this success while working with the original publisher of Fifty Shades of Grey, something she says can be a mixed blessing.
"Sometimes you get the, 'Oh yeah,' of recognition, and sometimes it's kind of the 'Oh, yeaaahhh,' with a sidelong look," she says. "You just have to laugh and tell people there are no whips and chains in this one. Only cool superpowers and maybe a kiss or two."
Although YA fiction is traditionally published or marketed for teens and young adults, a study by Publisher's Weekly shows that 55% of YA book buyers are over eighteen, with the biggest chunk—about 28%—between the ages of 35 and 44. Franklin sees that as hopeful data.
"Adults read these books too," she says. "They read a lot of them. In fact, most of my readers are over eighteen, some quite a bit over that. YA isn't just for kids. If it's a good story, people of all ages will love it."
MORE is available on Amazon, iTunes, B&N.com, Kobo and http://www.thewriterscoffeeshop.com. The Guardians will be available on November 7, 2013.
About the Author:
T.M. Franklin started out her career writing non-fiction in a Seattle television newsroom. Graduating with a B.A. in communications specializing in broadcast journalism and production from Central Washington University, she worked for nine years as a major market television news producer, and garnered two regional Emmy Awards, before she resigned to be a full-time mom and part-time freelance writer. Her first published novel, MORE, was born during National Novel Writing month, a challenge to write a novel in thirty days. The Guardians, Book Two in the MORE Trilogy will be released November 7, 2013. In addition to MORE and The Guardians, Franklin penned the Amazon best-selling short story Window, as well as A Piece of Cake, a short story in the Romantic Interludes anthology.
For more information, visit the author's web site at http://www.TMFranklin.com.
About the Publisher:
The Writer's Coffee Shop Publishing (TWCS) House is an up and coming independent publisher based in New South Wales, Australia. They gained a great deal of attention with Fifty Shades of Grey, the international literary sensation released in June 2011, now represented by Random House.
Launched in October 2010 with the vision of working alongside talented authors while providing quality e-books to the growing marketplace, TWCS publishes a wide range of fiction titles and is sure to have something for any appetite.
Website: http://ph.thewriterscoffeeshop.com
REVIEW COPIES OF MORE and The Guardians AVAILABLE UPON REQUEST