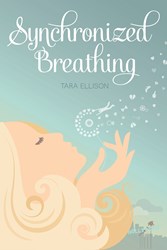 A deep, emotional story exploring the humor and drama of relationships, and the heart's yearning for true love.- Mitzi Kelly, author of the Silver Sleuths series.
Los Angeles, CA (PRWEB) November 14, 2013
Tara Ellison, debut author and Huffington Post columnist, set out to write a novel that would empower women. Having been through her own divorce and survived, she wanted to show other women that it is possible. Adopting the philosophy that laughter is always the best medicine, she created zany characters that readers everywhere can identify with in her fictional novel Synchronized Breathing.
"I wrote Synchronized Breathing for other women who might feel uncertain about the direction of their lives and could use a bit of humor," says Ms. Ellison. "Hopefully they'll be able to share a good laugh with Scarlett Spencer and maybe even feel a tiny bit emboldened about the future again."
With a messy divorce underway and a toddler in tow, Scarlett Spencer proves that life goes on and that love can be found again, even in the treacherous sea of Hollywood men. Forced to move back in with her mother (the hilarious CeCe), Scarlett must pick up the pieces of her life and discover the best is still ahead of her.
Synchronized Breathing by Tara Ellison will be available November 14, 2013 in paperback and ebook on Amazon, Barnes and Noble, iTunes, Kobo, and The Writer's Coffee Shop.
Book Summary:
Nothing announces the failure of one's life quite as loudly as having to move back in with your mother at the ripe old age of thirty-five. Unfortunately for Scarlett Spencer, her marriage has recently imploded and she's headed to Beverly Hills—toddler in tow—to move in with her oversexed mother, CeCe. But maneuvering life back at home isn't the only challenge . . .
After being a stay-at-home mom, Scarlett wades back into the Hollywood employment pool with hilarious results. Even more terrifying is the prospect of reentering the dating world. She soon learns that balancing motherhood with the unique demands of Hollywood men creates a new twist on the dating dilemma. Tired of dating jerk after jerk, Scarlett goes on a self-imposed "man-diet," which isn't easy when her mother is perpetually on a manhunt. But in the quiet of this new man-free existence, Scarlett discovers what is really important in her life.
Synchronized Breathing is a cheeky, light-hearted story about moving on and realizing that mother doesn't always know best.
About the Author:
Tara Ellison was born in London and raised between Sydney and Hong Kong before coming to the United States. After moving to Los Angeles for a career in acting, Tara realized she was a better author than actor.
Synchronized Breathing is her first novel.
Connect with Tara Ellison here:
Facebook: https://www.facebook.com/Taraellison.writer
Twitter: @TEllisonAuthor
Website: http://www.taraellison.com
About the Publisher:
The Writer's Coffee Shop (TWCS) Publishing House is an up and coming independent publisher based in New South Wales, Australia. They gained a great deal of attention with the June 2011 release for international literary sensation, Fifty Shades of Grey, now represented by Random House.
Launched in October 2010 with the vision of working alongside talented authors while providing quality e-books to the growing marketplace, TWCS publishes a wide range of fiction titles and is sure to have something for any appetite.
Website: http://ph.thewriterscoffeeshop.com/
Review Copies of Synchronized Breathing are AVAILABLE UPON REQUEST.