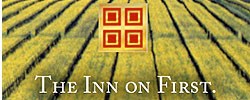 Napa, CA (PRWEB) February 01, 2014
The Inn on First is proud to announce that they have been successfully re-certified by the Napa County Green Business Program, qualifying as a green business.
The Green Business certification is good for three years and is given to businesses who meet green business standards. This means that The Inn on First has conserved resources and prevented pollution through their environmental conservation efforts. They have also met the environmental compliance requirements. Because of their positive efforts, The Inn on First will now enjoy public promotions through the Green Business Program. They will also receive positive public recognition from their peers and the community.
The Inn on First plans to maintain the green business standard in the coming years and will continue to look for new ways to improve. They wish to spread their message of environmental conservation to others and lead by example.
The Inn on First is also making two big changes this year. They will now recycle cooking oil through Napa Waste and Recycling and launch a rebate program available through the Napa Green Business Program. In addition, a lighting retrofit has come after an energy audit by PG&E.
The Inn on First is committed to reducing their carbon footprint, increasing green participation and adding value to their guests. They believe that a greener inn makes for a greener world. For more information, visit their website at http://theinnonfirst.com/.
About the company:
The Inn on First provides romantic getaways in the Napa Valley that will surpass all expectations. They can offer landscapes of rolling hills and beautiful vineyards of the entire Napa Valley. With a location that is one of the most sought after destinations in the country, the Inn and rooms are the perfect complement to a Napa Valley experience and make for a romantic atmosphere for loved ones. For more information, please visit their website.