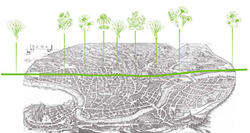 How can we bring together our interests in urban ecology, adaptive reuse, and social enterprise to respond to social, economic, and ecological concerns simultaneously?
Los Angeles, CA (PRWEB) April 17, 2014
Kim Karlsrud and Daniel Phillips, both graduates of Otis College of Art and Design in Los Angeles, have won the prestigious Rome Prize from the American Academy in Rome. Each year, through a national competition, the Rome Prize is awarded to approximately thirty individuals who represent the highest standard of excellence in the arts and humanities. Prize recipients are invited to Rome for six months to two years to immerse themselves in the Academy community where they enjoy a once-in-a-lifetime opportunity to expand their own professional, artistic, or scholarly pursuits, drawing on their colleagues' erudition and experience, and on the inestimable resources that Italy, Europe, and the Academy offer.
Daniel Phillips and Kim Karlsrud met while attending Otis College of Art and Design, and have been working together since 2008. They are the founders and directors of The Common Studio in Culver City, CA, an interdisciplinary team that collaborates with organizations, agencies, and companies to realize their goals and maximize their social impact. Daniel studied in the Architecture/Landscape/Interiors Program, and Kim studied in the Product Design Program.
"Since Kim and I started collaborating shortly after graduating from Otis, several general questions have underpinned our work," says Daniel. "How can we bring together our interests in urban ecology, adaptive reuse, and social enterprise to respond to social, economic, and ecological concerns simultaneously? What forces combine to give cities their unique texture and identity? Often, it's not the official landmarks and attractions seen in tourist guides but the smaller more elusive aspects that are more interesting. In L.A. for example, it's arguably the palm tree, but few Angelenos can identify the differences among the various species. How might we empower people to understand, engage with, and actively shape their everyday surroundings? For us, this has meant re-imagining the potentials of left-over urban spaces, and understanding the ways that people feel about and act outside of their private domestic realms of comfort."
Daniel and Kim's proposal hearkens back to the Botanist Richard Deakin's exhaustive work, the illustrated "Flora of the Colosseum of Rome," published in 1855, in which he details over 400 species, some of which are so exotic that the only explanation for their presence was that their seeds were carried in on the fur of wild African animals imported for gladiatorial fights, in prior centuries. It is in this tradition of detailed botanical inquiry that the team hopes to conduct their research in Rome.
The project, "CORSOPHILIA: Uncovering the Biodiversity of the Roman Streetscape," proposes to map the ecology of the Via Del Corso in Rome. The team will traverse the city on foot exploring, collecting, cataloging, and analyzing all vegetation encountered, from the lowly weed to the iconic ornamental. With the examination of each specimen, from a botanical, historical, and contemporary social context, they hope to synthesize the research in a public format that invites a wider conversation about the nature and future of urban ecology in Rome.
About the American Academy in Rome
Founded in 1894, originally as the first graduate school of architecture for the United States, the American Academy in Rome emerged in its present form – a hybrid center for the arts and humanities – by 1912. It remains the premier American overseas center for independent study and advanced research, a not-for-profit, private entity, the only one of the 30 foreign academies in Rome not supported primarily or entirely by its government. With an 11-acre campus on the highest point within the walls of Rome, the Academy annually offers the Rome Prize to approximately 30 individuals, following a national competition presided over by rotating independent juries of peers in each discipline, which include ancient, medieval, Renaissance and early modern, and modern Italian studies, and literature, music composition, visual arts, architecture, landscape architecture, design, and historic preservation and conservation.
The Academy community also includes a carefully selected group of residents, affiliated fellows, and visiting artists and scholars.
To learn more about the Rome Prize or the American Academy in Rome, please visit: http://www.aarome.org.
About Otis College of Art and Design
Established in 1918, Otis College of Art and Design is a national leader in art and design education. The College's mission is to prepare diverse students of art and design to enrich our world through their creativity, skill, and vision. Alumni and faculty are Fulbright, Guggenheim, and MacArthur grant recipients, Oscar awardees, legendary costume designers, leaders of contemporary art movements, and design stars at Abercrombie & Fitch, Apple, Disney, DreamWorks, Mattel, Nike, and Pixar.  
Otis enrolls approximately 1,100 full-time students, and offers Bachelor of Fine Arts degrees in Architecture/Landscape/Interiors, Digital Media (Game and Entertainment Design, Animation, and Motion Design), Fashion Design, Communication Arts (Graphic Design, Illustration, and Advertising Design), Fine Arts (Painting, Photography, and Sculpture/New Genres), Product Design, and Toy Design.  Otis also awards the Master of Fine Arts degree in Fine Arts, Graphic Design, Public Practice, and Writing.   
The five-acre main campus is located on L.A.'s Westside near the beach and LAX; Fashion Design is in the heart of the downtown fashion district; and Graduate Studios are on the Creative Corridor in nearby Culver City and in the 18th Street Arts Center in Santa Monica.
2,700 adults and children participate in Continuing Education art and design classes and workshops.