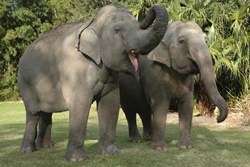 We're happy to give our guests an opportunity to visit our new, state-of-the-art elephant barn.
New Orleans, LA (PRWEB) December 03, 2013
Beginning Friday November 22, Audubon Zoo will unveil a visitor experience offering an up-close look at the new state-of-the-art living quarters for Panya and Jean, its two female Asian elephants. The encounters also offer visitors a chance to chat with the elephants' keepers and a rare opportunity to meet the pachyderms face to face.
The Elephant Barn Tour will give guests a fun and educational experience with two of the Audubon Zoo's most beloved residents in their new home. The excursion will last about one hour. The program is scheduled to end in August 2014.
"We're happy to give our guests an opportunity to visit our new, state-of-the-art elephant barn," said Audubon Nature Institute President and CEO Ron Forman. "Our staff enjoys sharing details about updated features such as padded and heated floors, and built-in scales. Giving our elephants the best of care requires a lot of effort and expertise, and we know our visitors will appreciate learning all about it."
Guests will learn about elephants and how the Zoo cares for the largest animals in its collection. They will go behind the scenes to hear about everything from the elephants' diet to their exercise program to the special features in their new exhibit. Remember to bring a camera to capture the special moment with Panya and Jean.
The Elephant Barn Tour is available Fridays, Saturdays and Sundays at 11:15 a.m. starting Friday, November 22, 2013. The encounters are limited to 10 guests, six years old and above. One adult must accompany each child under 10 years of age (one adult per child). Groups with children under 17 must include an adult chaperone (21 or older).
The behind-the-scenes experience takes place in the elephants' home and may be subject to cancellation on short notice due to unforeseen circumstances. In the event of a cancellation, each ticket holder is entitled to reschedule or receive a refund.
Tickets for the Elephant Barn Tour are $65 per person for Audubon members and $75 per person for non-members. Tickets include same day admission to Audubon Zoo. Tickets will be sold up to one hour before the start of the tour.
Audubon Nature Institute is a 501(c)3 not for profit that operates a family of museums and parks dedicated to nature. These New Orleans facilities include: Audubon Park, Audubon Zoo, Woldenberg Riverfront Park, Audubon Aquarium of the Americas, Freeport-McMoRan Audubon Species Survival Center, Entergy IMAX® Theatre, Audubon Center for Research of Endangered Species, Audubon Wilderness Park, Audubon Butterfly Garden and Insectarium and Audubon Nature Institute Foundation. Ron Forman is President and CEO of Audubon Nature Institute.