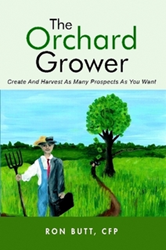 This book is a simple step-by-step illustration of how to build a successful financial planning practice.
LOUISVILLE, Ky. (PRWEB) May 26, 2015
Author and experienced financial planner Ron Butt, CFP – a part owner of ARGI Investment Services, LLC – helps financial service planners generate strong leads and convert those leads into repeat customers in his new business guide, "The Orchard Grower: Create and harvest as many prospects as you want" (published by Lulu).
Written in an honest, conversational tone, "The Orchard Grower" draws comparisons between financial service providers and orchard growers. As any gardener knows, orchards are not easy to grow. Certain breeds need different temperatures and climates, and the amount of light needed often differs between breeds.
Like orchard growers, financial service providers need to be able to adapt quickly to attract a large and changing clientele. With the author's guidance, readers will learn how to attract new prospects and develop strong lead generation strategies. They will also learn to successfully market themselves and guide leads to the buying stage.
Comprehensive and simple, "The Orchard Grower" provides easy-to-read instructions and guidance for any financial service provider. With over 30 years of experience, Butt brings a wealth of knowledge to his book and hopes to help readers run successful financial planning practices.
"Every professional service provider is looking for a method to attract more and better clients," Butt says. "This book is a simple step-by-step illustration of how to build a successful financial planning practice."
"The Orchard Grower"
By Ron Butt, CFP
Softcover | 6 x 9 in | 122 pages | ISBN 9781483417745
E-Book | 122 pages | ISBN 9781483417738
About the Author
Ron Butt, CFP has been helping individuals and businesses accomplish their goals for over 30 years as a financial planner. He also established one of America's largest registered investment advisory firms, (ARGI Investment Services, LLC) and comprehensive fee-based financial planning firms. He has helped numerous advisors reverse their tedious and often unproductive business approaches.
Lulu empowers people of all ages to explore and express their interests, passions and expertise through books, photography and art. Since introducing self-publishing in 2002, Lulu has empowered creators in more than 225 countries and territories to produce nearly two million publications. Lulu Jr. allows children to become published authors, encouraging creativity, strengthening literacy and building self-esteem. Picture.com offers professional photography of collegiate and professional sports, memorable and historic events, fine art and home décor. For more information, please visit lulu.com.