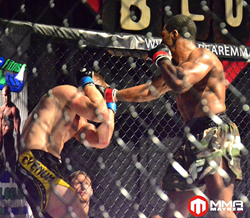 It's important to me that I get a stoppage, nothing says you are the true winner better than winning by KO.
Belcamp, Maryland (PRWEB) June 30, 2014
Almost two years ago Ron "ChoirBoy" Stallings became Harford County's 1st pro MMA Champion, winning the Ring of Combat Middle weight belt by 1st round knockout. Since then Stallings has been totally inactive in MMA competition, but not by choice or any health reasons, but because aiming to get a call from premier leagues, like the UFC and Bellator, didn't want to risk a blemish on their record from Stallings. Stallings even tried out for the current season of The Ultimate Fight Penn Vs Edgar but didn't get picked after the final selection interviews in Las Vegas. After countless fights being turned downed, the break in MMA competition finally ended for Stallings this past Friday as he stepped back in the cage in South Carolina's premier MMA promotion, Warfare MMA, against the highly touted Josh Williams. Williams had already made a name for himself by defeating UFC vet, Shamar Bailey, in the second round of his pro debut.
This main event bout was a back a forth battle for much of the 1st two rounds. Early on in the 1st round Williams opened up a cut with short range elbow against the cage on Stallings left brow and controlled most of the round pinning Stallings against the cage. Then in the 2nd round the exchange heavy punches but in the 3rd, apparently feeling the need for a stoppage to win, Stallings closed the show with a series of punches that lead to a fight ending, Bernard Hopkins like- liver shot. With this win, Stallings increased his record to 12 wins and all by KO or Submission.
"It felt great to get back in the cage, it's been extremely frustrating not having any fights especially after winning a renowned title that other UFC fighters have won prior getting the call but nevertheless it felt great and of course it felt great pick up the win. And not just win but it's important to me that I get a stoppage, nothing says you are the true winner better than winning by KO or submission.
Stallings now hopes that after winning 3rd fight in a row by stoppage that it will now be enough to get a call to fight in the UFC octagon. Till then he says he'll be in the gym at Top Flight MMA and with his coaches at Lloyd Irvin's MMA working on sharpening is skills to finish fights.