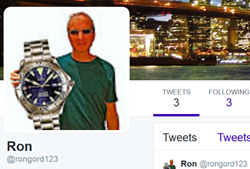 Twitter is an important new way to reach people who love quality watches.
(PRWEB) May 16, 2014
Ron Gordon Watch Repair, a top New York City watch repair service, is proud to announce exciting upgrades to a stronger social presence and is upgrading the company's Twitter profile of Ron Gordon, proprietor. The new company announcements can be viewed on Twitter at https://twitter.com/rongord123.
"Twitter, of course, is one of the most popular social media networks," explained Ron Gordon, proprietor of the Ron Gordon Watch Repair. "My goal on Twitter is to share my expertise and passion for timepiece repair with others via the networking with others on Twitter."
Tweets from Ron Gordon's Profile
On his revised Twitter profile, Ron Gordon explains that he can provide luxury watch repair for all major brands, specializing in Swiss timepiece repair in New York City, New York. Ron Gordon is an Authorized Hamilton dealer. The company also sells vintage Zodiac products.
To learn more details of new and exciting projects and details about Ron Gordon, visit the company's Twitter account. Follow Ron Gordon for exciting information on the world of time. Twitter will have exciting details and buzz about the company. Ron Gordon of New York, NY is excited about the new upgrades it's making to their social reach.
Please visit Twitter for Ron Gordon at https://twitter.com/rongord123.
About Ron Gordon Watch Repair
Ron Gordon is conveniently located at 280 Madison Avenue at 40th Street in Midtown Manhattan, New York City. The company specializes in the service and repair of high quality, luxury watches – both modern and vintage – and repairs timepieces for those who wear the very best brands. The expert and namesake is Ron Gordon.
Contact:
Ron Gordon Watch Repair
Tel: 212-896-8999
Web: http://www.rongordonwatches.com/
Google+: Ron Gordon