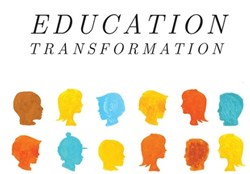 the one-size-fits-all model of education is obsolete
Herndon, VA (PRWEB) August 01, 2013
In Education Transformation, Packard contends primary education is the only major industry still left behind on the technology transformation curve, and challenges colleagues in the industry to embrace change that will lead to more effective education. He outlines the concept of digital learning and the growth of the category over the last decade, exploring in great detail the opportunities and challenges of being an innovator in the online education sector and passionately arguing a transition to individualized learning is inevitable. Packard addresses key and controversial questions, including:

Why is online education inevitable?
How important is technology to education?
Who can benefit the most from online education?
Why do for-profit companies benefit the education system?
"The U.S. education system is experiencing the greatest change the sector has seen in 100 years," said Packard. "Technological innovation is enabling parents and educators to serve our children better than we've ever been able to serve them before, but if we're going to be able to take full advantage of the possibilities of education transformation, we must be better prepared."
As CEO and founder of K12 Inc.,the nation's largest K-12 online learning provider, Packard has been on the forefront of the dynamic shift in education for more than a decade. During that time, K12 has worked with more than 2,000 school districts, created new jobs for thousands of teachers, and has delivered more than four million courses to students worldwide. Packard knows what works, what doesn't and why, and in Education Transformation provides context for moving forward that is relatable and constructive for parents, teachers, administrators, elected officials and anyone looking to help make sure education is everything it can and should be for young people in this country and around the world.
"Students are now benefitting from customized, individualized online education programs in ways hard to imagine just a few years ago," he added. "The one-size-fits-all model of education is obsolete, because no two children learn in exactly the same way. The sooner we accept, embrace and channel that, the better."
Effective, affordable, highly customizable and scalable online learning is already changing the way teachers teach and children learn. Teachers are rapidly embracing digital learning, too. Every year, a growing number of teachers are choosing to leave the traditional classroom to teach in online and blended schools, working closely with students and parents to provide highly individualized instruction. Packard predicts in Education Transformation there will come a day when the majority of electives and advance placement (AP) classes at traditional brick and mortar middle schools and high schools are offered online, given the medium's ability to provide the highest caliber content in a cost-effective way.
Education Transformation is available for sale at online booksellers, in select stores nationwide, and through the website http://www.educationtransformation.com.
Praise for Education Transformation:
"Online and digital learning have begun to change the way schools and our education system work. This book is a must read for anyone interested in learning how, thanks to technology, every student can receive a personalized, high quality education." – Jeb Bush, former governor of Florida
"An excellent guide for districts and states on how technology can improve our education system – not by a theorist but by someone who is actually doing it." – Paul Vallas, former superintendent of Recovery School District in Louisiana and former CEO of Chicago Public Schools
"Technology is becoming the best tool for transforming teaching and learning in America and around the world. This book is an excellent guide for teachers and administrators – not to mention parents – as we envision schooling in the future." – Dr. Mary Futrell, former president of the National Education Association, former dean of the Graduate School of Education and Human Development at George Washington University and member of K12 Inc. board of directors
About Ron Packard
Ron Packard, the CEO and founder of K12, Inc., is a pioneer in the emerging world of individualized online learning. Under his leadership, K12's award-winning curriculum and services have been used by almost 500,000 K-12 students in 85 countries on six continents. Recognized with the Education Industry Association's James P. Boyle Entrepreneurial Leadership Award, as well as an Ernst & Young Entrepreneur of the Year Award in Greater Washington, and Outstanding Leadership by an Individual, from the United States Distance Learning Association, Packard is a sought-after speaker and media expert on education, technology and business.
To request an interview, speaking engagement or signed copies of the book, please contact Regina Lewis at Press(at)k12(dot)com.