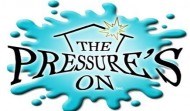 Boca Raton, FL (PRWEB) November 21, 2013
The Pressure's On of South Florida has announced that free roof cleaning & pressure cleaning estimates for homeowners and commercial properties in Boca Raton and South Florida are now available.
From cleanliness purposes to simply wanting your homes and businesses looking fresh and spotless, there are many benefits from hiring The Pressure's On to get the job done. A good power washing goes a long way, especially when dealing with the Florida sun and having families at home, and workers and customers in businesses, see their familiar locations in a cleaner way.
Boca Raton and South Florida roofs are known for their growth of mold and mildew. The Pressure's On is experienced at removing this growth with our expert power washing services. When you decide that it's time for your roof to be power washed, it's important to have a qualified roof power washing company.
Dirt and mold have a way of attaching onto buildings and flat surfaces. What The Pressure's On can do is deliver a healthy, professional job in Boca Raton that takes all the muck and junk out of those areas and brings out the natural beauty in and around homes and commercial properties.
Boca Raton is a 'principal city' (as defined by the Census Bureau) of the Miami metropolitan area. Like most South Florida cities, Boca Raton has a water table that does not permit building basements, but there are several high points in the city, such as 4th Avenue which is aptly named "High Street".
The Pressure's On of South Florida offers professional pressure cleaning services in the Boca Raton and South Florida area for residential and commercial properties. These services include window cleaning, driveways, pools, sidewalks, roofs, commercial, and more. We are licensed, insured ($1,000,000 liability), and a drug-free workplace.
For more information, visit their website at http://pressurecleaningbocaraton.net/ or call 561-985-5057.