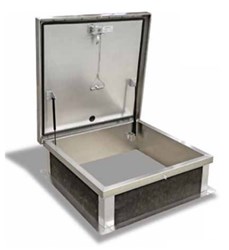 The new roof hatch line provides off-the-shelf availability at lower manufacturing costs.
Cleveland, OH (PRWEB) September 04, 2013
The new A-Mezz Economy Series Roof Hatches feature all the elements expected in an industrial-quality roof hatch at a cost that's up to 30% less than others. With prime-coated galvanized steel construction, the new roof hatches feature:

One inch of insulation with a continuous EPDM draft and weather seal liner for flush, tight, fit.
Designed to meet the industry-standard uniform live load of 40 lbs./sq. ft.
Cover and 12" high curb are 14 gauge galvanized steel, and the inside cover liner is 22 gauge galvanized steel.
Hot-dipped galvanized for long life, the railings bolt to the roof hatch curb, eliminating the need to anchor them to the roof. The new railing system also features an integrated grab-safe ladder rung continuation to make ladder entry and exit easier and safer.
According to Brett Fowler of A-Mezz, "By having the economy series roof hatches produced in large batches – all here in the USA and Canada – A-Mezz is able to ship orders quickly as reduced. While other Mezz series roof scuttles offer different stock sizes and custom options, the new roof hatch line provides off-the-shelf availability at lower manufacturing costs due to economies of scale."
The new steel hatches come sizes for 24"x24", 30"x30", 36"x30", 36"x36" and 48"x48" rough openings for convenient roof top access.
The roof hatch curb has cap flashing for a secure weather-tight installation. The economy series features zinc-plated hinges with gas spring operators to allow easy opening and a built in hold open arm and pull handle. The finish is a baked on grey enamel polyester.
These hatches also come with a one-year warranty on material and workmanship.
Installation of the roof hatch is simple – simply frame out the rough opening in the roof, and bolt the hatch down using the 3.375" wide bottom flange with pre-drilled holes. To finish, simply re-roof up the side of the hatch and tuck the roofing under the supplied cap flashing to prevent leaks. No gaskets are required with standard installation.
About A-Mezz
A-Mezz Industrial Structures, Inc. specializes in the design and engineering of mezzanines, modular industrial offices, material lifts, wire enclosures, in plant buildings and material handling equipment to provide flexible and cost effective solutions to transform poorly used space into valuable square footage. The company provides complete systems engineered and designed to the customer's intended use and space limitations.
More information is available at http://www.amezz.com or by calling 888-432-2657.