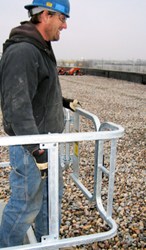 The new railing offers OHSA-compliant safety and fall protection around roof hatch openings to protect workers.
Cleveland, Ohio (PRWEB) July 31, 2013
The new A-Mezz Roof Hatch Safety Railing system protects all sides of the hatch opening, and includes a self-closing safety gate. This system is superior to chains, as the passive safety of a self-closing gate does not rely on the user to do anything to secure the opening.
The new safety system features:

full railing around roof hatch opening for increased safety and fall protection
our MLG self-closing safety gate
field adjustability to conform and fit to roof hatch curb irregularities
Hot-dipped galvanized for long life, the railings bolt to the roof hatch curb, eliminating the need to anchor them to the roof. The new railing system also features an integrated grab-safe ladder rung continuation to make roof hatch ladder entry and exit easier and safer. This also eliminates the need for those cumbersome telescoping posts.
According to Brett Fowler of A-Mezz, "The new railing offers OHSA-compliant safety and fall protection around roof hatch openings to protect workers."
Roof Hatch Safety Railing provides permanent four sided protection which is safe, simple to install, durable, and economical.
The MEZZ-Roof Hatch Safety Railing uses a gasketed connection to bolt directly to roof hatch curb — no piercing of roofing membrane is required. The railing meets OSHA Standard 29 CFR 1910.23 (a) (2), and is galvanized for durability in exterior environments. MEZZ-Roof Hatch Safety Railing ships knocked down to ensure lower shipping charges, and ease of handling and transport to installation site. Safety railing is installed with only a few common tools. The system is offered in four standard sizes, or A-Mezz can provide custom sizes to fit any roof hatch curb.
About A-Mezz
A-Mezz Industrial Structures, Inc. specializes in the design and engineering of mezzanines, modular industrial offices, material lifts, wire enclosures, in plant buildings and material handling equipment to provide flexible and cost effective solutions to transform poorly used space into valuable square footage. The company provides complete systems engineered and designed to the customer's intended use and space limitations.
More information is available at http://www.amezz.com or by calling 888-432-2657.