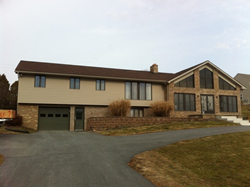 Tammi says 'Best' in Best Contracting describes the company.
Gordonville, PA (PRWEB) September 17, 2014
Best Contracting LLC – roofers in Chester County – helped Tammi S. with her siding, windows, and the roof of her home. Tammi is very pleased with the work done by the Chester County roofing experts. Best Contracting believes it is important to demonstrate ethical and moral principles in the way they conduct their business. This is so customers, like Tammi S., are able to find a contracting team that can be reliable with good communication and customer service. Ray Beiler – president and CEO of Best Contracting LLC – and his team are dedicated to total customer satisfaction with quality workmanship and integrity.
Tammi S. says, "Best! The name says it all. Siding, windows and a roof. Your crew is so hardworking and kind. I appreciated your communication and your honesty." She goes on to say, "Thank you for making such a big project run so smoothly and turn out beautifully. You're the best!"
Ray Beiler and his team guarantee 100% customer satisfaction, not only with the workmanship but also the honesty, trustworthiness and integrity of the company.
Best Contracting LLC is a full service contractor company that has broad skills and is highly experienced, licensed and insured. Best Contracting LLC enthusiastically serves within Reading, Lancaster, Harrisburg, and York metropolitan regions. The company specializes in storm and emergency repair damages to roofs, gutters and siding. Quality materials and workmanship are provided together with professional customer service. Skilled work crews are available that have over 50 years of combined experience. They put every effort into the project to completely satisfy the customer with workmanship results you can see.
Best Contracting LLC is based in Lancaster County, PA and has repaired thousands of roofs. Free inspections and estimates are provided quickly so desired results can be achieved in a timely manner. The President and CEO, Ray Beiler says, "It's the appreciation from the customer that makes our hard work rewarding. That's why customer satisfaction is so important to us."
To view more testimonials and to learn more about Best Contracting LLC visit: http://www.bestcontracting.biz or call the office at 888-857-4124 or cellular 717-587-1786.
Media Contact
Ray Beiler
717-587-1786
ray(at)bestcontracting(dot)biz