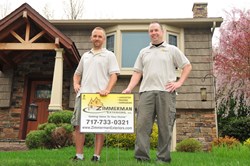 We are very excited about our new, improved online presence
Ephrata, PA (PRWEB) July 23, 2013
Zimmerman Exteriors, a leading Pennsylvania-based home and business improvement company specializing in roofing, siding, energy-efficient door and window installation, masonry work and home additions, has announced an intuitive leap into the virtual networking realm. As what the company calls "steps towards becoming more accessible to the communities that it serves" in Lancaster and nearby counties, these strategies encompass an all-new website, blog section and social media campaign. Zimmerman Exteriors, as leading roofers in Lancaster as well as representing go-to Reading roofers and Harrisburg roofers, remain dedicated to providing exterior repair, renovations, maintenance and other services to its customer base.
As the primary element in this revamped presence strategy, Zimmerman's new website was rebuilt to serve its clientele better through a "fresh design" and "improved curb appeal." Further, the site has been structured to facilitate searches – such as when a visitor may type in "roofing Lancaster PA" – via streamlined menu options. Freshened content such as an information page that details the company's new reflective insulation energy-saving product couples with all there is to know about these expert roofers in Lancaster, Reading roofers and Harrisburg roofers. Read more about their roofing services now.
Zimmerman Exteriors has also launched a blog area on its new site, designed to "inform and educate" consumers for the purpose of aiding them in making smart home exterior construction and repair decisions. Homeowners in York and surrounding areas can find honest, practical advice on a variety of home exterior topics. Further, Zimmerman officials have promised that the blog will be devoid of "dry, monotonous content" to keep the material easy to understand. Click here to read their blog.
As the third stage in Zimmerman Exteriors' virtual presence revamp campaign, the company has turned its attention to its Facebook page, where exterior maintenance tips, exterior renovation ideas, before and after photos of projects they have completed, fun facts and exciting announcements are poised to set the company's social media foray on fire. Customers can post home exterior queries for Zimmerman's experts to answer, as well as share their thoughts on the company's posts – as they can on its Google Plus page.
"We are very excited about our new, improved online presence," states a Zimmerman representative. "We are hoping our current and prospective customers will share our enthusiasm and spread the word, as we make ourselves more accessible and approachable on the Web to homeowners throughout Lancaster, Berks, York and Dauphin counties."
For more information, visit http://www.zimmermanexteriors.com.