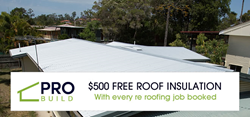 We pride ourselves on providing the highest quality products and personalised customer service.
Brisbane, Queensland (PRWEB) July 20, 2014
Local Brisbane roofers http://www.probuildroofing.com.au are now making life easier for all their re-roofing customers. In a recent development, the company has announced a special offer that provides insulation worth $500 to their re-roofing customers for no additional expense. Pro Build Roofing has built a reputation of trust in this region with their top notch service. In addition to re-roofing, the company also offers a comprehensive range of roofing services such as metal roofing, roof restoration, roof repairs, roof replacements, guttering, insulation, commercial and industrial roofing and asbestos removal. Since the inception of the company ten years ago, Pro Build Roofing has served many residential home and commercial property owners with an extraordinary track record. Pro Build Roofing's service is available across a wide area that includes Brisbane Northside, Brisbane Southside, Brisbane CBD, Brisbane West, Sunshine Coast, Toowoomba, Gold Coast, Ipswich, Tweed Heads, and Northern NSW.
Pro Build Roofing Brisbane is a family owned organization that started their illustrious journey way back in the year 2005, and have experienced significant growth over the years. The company only relies on high quality products and specialist tradesmen, to serve their clients. With a long business association with several specialist roofing crews in Brisbane, the Gold Coast and Sunshine Coast, Pro Build Roofing is known to offer premium quality services at competitive prices in the local market. The team at Pro Build comprises of a healthy mix of experienced and young employees, taking full advantage of old fashioned hard work and youthful energy at the same time. Pro Build Roofing has recently ventured into commercial roofing and has aggressive plans for further expansion of the company.
The popularity of the reroofing service is one of the prime reasons behind the attractive promotion. Pro Build's metal re-roofing services are considered to be the preferred choice in this region for home renovation, investment properties, new homes, and commercial buildings. The Pro Build Roofing team is highly proficient in bringing life back to any old roof without burning a hole in their customers' pocket. The re-roofing process followed by the company involves several steps such as tile removal, roof inspection, sarking installation, new batten installation, new metal loading, installation, and fixing. All adequate safety measures are taken before the start of this process. The service is particularly helpful for anyone looking to renovate or sell an old property. The typical range of pricing for re-roofing starts at $2000 and can go as high as $20,000 depending on the size of the property.
The new special offer from Pro Build Roofing is an extremely useful one because the company also has a high level of expertise in supplying and installing roof insulation. With the no cost insulation benefit worth $500, their customers can reduce greenhouse gas emissions, save on their electricity bills, and enjoy a comfortable atmosphere within the home. In order to benefit from this exciting offer, the only requirement is to book a re roofing job on the company website.
About Pro Build Roofing Brisbane:
Pro Build Roofing is an acclaimed roofer providing a wide array of services in and around South East Queensland. Since the companies humble beginnings it has experienced solid growth due to the commitment to customer satisfaction and the choice to only use the highest quality products available. For questions about your property they offer a free inspection or advice over the phone. They have recently introduced a special offer that provides free roof insulation worth $500 to all their re-roofing customers.