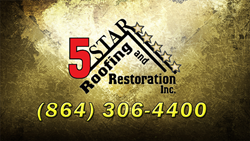 Mitigating damage is super important
Greenville, SC (PRWEB) October 31, 2014
5 Star Roofing and Restoration is a roofing company in Greenville. They specialize in working with insurance companies to repair and restore homes damaged by storms. In early October a major storm swept across the Southeast damaging and destroying many homes. 5 Star Roofing and Restoration was there to perform emergency roof repairs in the Greenville area.
John from 5 Star Roofing and Restoration was on the scene, he said, "Mitigating damage is super important. We arrived while the storm was happening to document and photograph damage to homes, but more importantly to stop more damage from happening by removing the debris and securing or tarping the areas where water was still coming in."
5 Star Roofing and Restoration is one of the best roofing contractors in Greenville, SC. But more than just roofing, they are a full service restoration company. Their certified field adjusters inspect your entire home for damage to ensure that the insurance company is aware and pays for all damage caused by the storm. Many homeowners in the Greenville area got a complete new roof.
If you have a Leaking Roof in need of Repair in Greenville, then 5 Star Roofing and Restoration is the superior choice. They are fully licensed, bonded and insured and have done thousands of jobs across South Carolina. They provide a free roofing inspection and review your policy to determine the type of coverage and deductible.