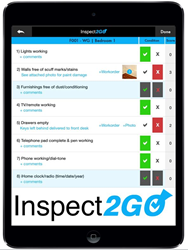 Guest satisfaction...improved through quality control, maintenance and tracking.
Orange County, California (PRWEB) September 14, 2016
Inspect2GO, a leader in mobile inspection applications, announces a new hotel room inspection app. The application is used for quality checks and reporting. The mobile application can be customized to match each client's existing checklists, inspection forms and business processes. Readiness assessments convey guest room availability to staff. Work orders are issued, tracked and sent to the maintenance department. Room inspection scores and averages are reported. View the new Room Inspection App Video https://youtu.be/L4aJVSeeDuY).
The application reduces hotel operating costs through improved communication and efficiency. Guest satisfaction scores can be improved through quality control, maintenance and tracking. The app is available for iPad, iPhone, Android or Microsoft mobile phones and tablets. Learn more at http://www.inspect2go.com/hotel/room-inspection-app.
A two-week trial period is being offered to qualified hotels during October, 2016. The trial software includes some of the capabilities of the full version. Clients contact Inspect2GO directly to sign up for the trial.
Hotel Room Applications and Capabilities

Inspection - Hotel room inspection app
Availability - Hotel guest room assessment, availability and readiness app
Quality - Hotel room quality assurance app
Checklist - Customizable room inspection forms and checklists
Offline - Native app for iPad, iPhone, Android and Windows mobile phones and tablets
Web - Online, web-based (Wi-Fi) app with cloud-based data storage
Work Orders – Work order generation with photos and tracking for maintenance and engineering
Other - Hospital, cruise ship, school and other uses
Reporting - Inspection tracking, trending and reporting of key performance indicators
Dashboard – Custom dashboards for reporting, trending and inspection management
Benefits

Guest Satisfaction – Improve hotel quality scores
Savings – Reduce costs through efficiency
Time – Reduce paperwork and enable staff to focus on their work
Communication – Improve communication between management, staff, maintenance and housekeeping
About Inspect2GO
Inspect2GO (http://www.inspect2go.com/hotel/room-inspection-app) offers state-of-the-art inspection management software that combines mobile, cloud and database technology. Inspect offline and manage online with software designed by inspectors, for inspectors. Inspections are conducted on a native mobile app that's easy to use and functions everywhere, offline, without the need for data connectivity. iPad, Android tablet and Windows (Surface Pro) mobile applications are available. The database software enables scheduling, ad-hoc reporting, financials, permitting and management functions.