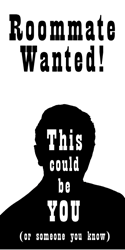 Choosing a roommate is a tough decision, make sure you consider these important qualities before making your decision.
New York, New York (PRWEB) November 12, 2013
Choosing a roommate is not just about convenience—it's also about safety and security. When a person is choosing a roommate, it's important to remember this is someone they'll be sharing their most personal belongings with, and their private home. Choosing a roommate shouldn't be entered into lightly, because even with the best home security system, if a roommate isn't a good choice, security and safety can be compromised.
The team at SecuritySystemReviews.com, a site that helps consumers compare home security systems throughout the country, from Tennessee security systems to New Mexico security systems, has compiled a list of tips to make choosing a roommate safer and easier.
1. Always interview potential roommate candidates. This may sound self-explanatory, but it's something a lot of people neglect to do. It's important to have at least one face-to-face meetings, and maybe even more, before a contract is signed. It's important to never agree on a roommate situation just after speaking on the phone or by email. During the interview process, it's best to bring a friend or family member along, for added security.
2. When placing an online ad for a roommate, it's best to be pretty vague—avoid putting personal information, like a name or address, and don't put a photo. It's best to wait until the interview to disclose many details.
3. Ask for roommate recommendations from friends and family members—this is often much safer than relying on a site like CraigsList to find a potential roommate. It's also a good idea to look for roommates through schools, churches or organizations—these people are more likely to be trustworthy, when compared to a stranger found on an internet listing.
4. Don't be afraid to ask for a background check and credit check before selecting a roommate. These are necessary items that can make a roommate relationship more safe and successful.
5. Set ground rules before moving in together regarding things like alcohol use, visitors, etc. It's best to have these rules in writing, to avoid confusion and potentially dangerous or detrimental future situations.
6. When searching for a roommate, it's important to go on instincts. Often, instincts are the best way to determine whether or not someone will be a good fit, and if someone has a bad, nagging feeling about a potential candidate, it's not something that should be ignored. Choosing a roommate is a big decision and can have a lot of future consequences if it's not handled appropriately.
About SecuritySystemReviews.com
SecuritySystemReviews.com is the nation's leading independent provider of information about home security system companies. The site offers comprehensive reviews of the best companies throughout the U.S., including ADT security reviews. There are also regularly updated rankings, and site visitors can access valuable coupons and discount codes which can be used to purchase a home security system.