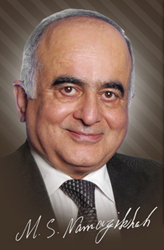 The respected and experienced endodontist is excited to announce the opening of his new office in Encino - Los Angeles.
Los Angeles, California (PRWEB) June 30, 2014
Dr. Sadegh Namzikhah has been practicing endodontics in the greater Los Angeles area for over thirty years. Now, the respected and experienced endodontist is excited to announce the opening of his new office in Encino - Los Angeles. The new office, which is located on Ventura Boulevard in Encino, California, will be open Monday through Friday from 9 am until 5 pm. Dr. Namazikhah is well known throughout the endodontic community for superior root canal procedures and endodontic therapy. Dr. Namazikhah is the most experienced endodontist in Encino. He is also the best known root canal specialist in Los Angeles. Endodontists specialize in the study and treatment of the dental pulp within the teeth. Endodontists perform a variety of procedures, of which root canals are the most common. Other specialties of Dr. Namazikhah include endodontic retreatment, oral surgery, treating cracked teeth, and treating dental trauma. Endodontic treatment is required to save a tooth if the dental pulp has been damaged or injured. Endodontics is recognized as a specialty by many national dental organizations including the American Dental Association, Royal College of Dentists of Canada, and Royal Australasian College of Dental Surgeons.
In 1980, Dr. Namazikhah began teaching at USC as a Clinical Assistant Professor This led to his appointment as Director of the USC Endodontic Clinic, Chairman of USC's Undergraduate Endodontic Program, Professor and Chairman of the Endodontic Department, and Director of the Advanced Endodontic Program. Dr. Namazikhah's extensive history practicing endodontics and root canal procedures in Southern California began in 1983, when he opened his first private practice in Woodland Hills in 1983. By 1987, he had opened a second office in Hollywood. Now, Dr. Namazikhah has moved his Woodland Hills practice to Encino, California. Currently, Dr. Namazikhah serves as the President of the Los Angeles Dental Society, a component of the California and American Dental Associations.
Dr. Sadegh Namazikhah
16101 Ventura Blvd. Suite #345
Encino, California 91436
Phone: (818) 789-3236
-Contributed by TRIXMEDIA : Creating Possibilities
Branding Firm based in Beverly Hills, California.