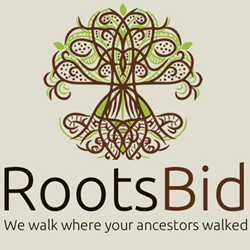 RootsBid was started because of my own experience doing family history research.
Leatherbridge, Alberta, Canada (PRWEB) March 30, 2015
RootsBid, Inc., today announces a relaunch of their website, which allows people to connect around the globe to do family history research. The website matches people who have requests about an ancestor in another country or place, to do research with someone who lives in that place.
RootsBid uses a crowdsourcing model to break down the barrier of distance and connect people all around the world who are willing to assist each other with their family history. It is modeled after very successful approaches done in other niches online, such as Elance for development, TaskRabbit for jobs, or Airbnb for places to stay.
Many people live far away from where their ancestors lived and have difficulty getting needed records and resources. Even though many records and resources are accessible on the Internet, there is still substantial information only available from the actual places where family history happened.
"RootsBid was started because of my own experience doing family history research," said Steven Pedersen, co-founder of RootsBid. "Our family wanted to see the village of one of our Dutch ancestors. It took considerable effort, but we were able to finally reach out to a schoolteacher in Belgium and she filmed the town for us. While working with her, she uncovered even more information about our family roots than we ever knew existed! It was then we realized the true power of having someone actually walk were our ancestors walked."
Family History enthusiasts use RootsBid to share their time, skills, and experience to benefit people all over the world. In addition, it gives people an opportunity to earn money for the services they provide. This can particularly benefit people from developing countries, which is often where family history research is harder to access.
The RootsBid website (http://www.RootsBid.com), has been updated to display well on all browsers and platforms. It now integrates with Authorize.net and PayPal to provide a reliable escrow and payment solution that users can trust. Rather than having to search the site, registered users can now receive email notifications of projects. They will be notified when there are new posts in their geographic area of residence, or jobs that fit their particular expertise.
Further plans include making RootsBid content translatable into multiple languages and a mobile app.
About RootsBid™
RootsBid™, a Reflective Practices® venture, is an online genealogical marketplace that allows you to get help from others living in your ancestral homelands. Reflective Practices® serves as a premier information technology incubator company, specializing in high-value and market-leading apps, tools, and websites, as well as in establishing sustainable venture partnerships that provide innovative solutions to individuals, businesses, and communities worldwide.