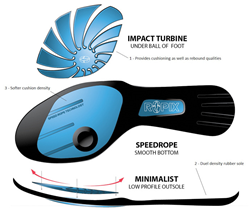 Ropix shoes are the one and only athletic shoe designed for jump rope.
New York,New York (PRWEB) March 13, 2014
Ropix, founded by Dennis Dwyer, has created the very first sports shoe designed specifically for jump rope. Ropix users will benefit from the first shoe of its kind. Ropix shoes provide higher performance and greater injury protection for rope-jumpers. They will not only satisfy the specific need on sports, but also provide a new look for the casual footwear in the street chic market.
Ropix started as an idea in a boxing gym in 1991. As every boxer knows, jumping rope is an integral part of their training. However, there has never been a proper shoe for it. Years later, Dennis Dwyer decided to create a shoe that would fulfill this need. To ensure the shoes were the highest level of performance footwear, Dwyer partnered with expert industrial designer Joe Napurano for a solution. Although Dennis Dwyer had an extensive career in high-end men's footwear, he knew it was necessary to find experts in the sports footwear industry.
The collaboration produced a system that enables the wearer to be light on their feet, provide quick responses and be protected from injury. This is why Ropix is the very best shoe for jump rope.
After a promising beginning and hundreds of pairs sold, including a few to high profile customers, Ropix reached a stumbling block.
"The Kickstarter campaign was created after our factory closed. There is no chance in retrieving them the molds and they will need to be replaced. Fortunately a new partner that will produce our shoes in the quantities and the quality we demand has been acquired. Now all we need is our new molds to continue our goal in providing the best footwear possible for every jump rope enthusiast everywhere! We are committed to the growth of the sport and to one of the best health improving exercises known." Dennis Dwyer said.
Speed Rope Technology is a system of materials, design and function. The sole is sleek and smooth. It is lightweight and flexible shoe that is made of a dual density rubber material with soft cushion "landing pad" in the ball of the foot area to dampen forefoot impact. The mid-sole forefoot turbine insert is designed to attenuate shock and is made of soft "bounce" rubber material.
Ropix shoes come in 6 color schemes and will be available online at http://www.ropixshoe.com.
The first shoe of its kind, Ropix will benefit all sports enthusiast who utilize jump rope in their training. Boxers, gym enthusiasts, competitive jumpers and all fitness fanatics.