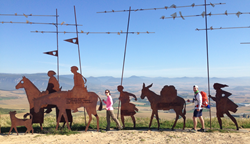 Walking the Camino without knowing exactly what was coming next, or where I would eat, or where I would sleep, I have been reminded to trust in God with the little things as well as the big things in my life.
West Palm Beach, FL (PRWEB) September 01, 2015
Rosarian Academy fourth-grade teacher, Katherine Murphy, spent her summer fulfilling a dream—walking 550 miles on a religious pilgrimage called the Camino de Santiago de Compostela (The Way of St. James). Traveling with her brother, Michael, and carrying everything they needed in their backpacks, they finished the journey in 38 days. This pilgrimage dates back to medieval times.
The sibling pair started the Camino pilgrimage on June 21st in the beautiful, picturesque town of St. Jean Pied de Port, France. They faced the most difficult portion of the Camino right at the beginning, crossing the Pyrenees over the border between France and Spain. Then they continued across northern Spain to Santiago de Compestela, Spain, where the apostle St. James is buried. From there, they walked three more days to Finisterre (which translates to "end of the earth") on the coast. During the Middle Ages, pilgrims often traveled all this way, and it was thought that the coast was the end of the world.
Katherine commented, "It was completely empowering to realize that I had walked across an entire country, from France all through Spain and then to the ocean. From completing the challenge of the Camino, I feel like there are many areas of my life where I can challenge myself to improve."
As the two journeyed by foot from village to village, town to town, and city to city, they stayed in albergues, or pilgrim hostels. The hostels are available to only pilgrims and house anywhere between 20 to 200 beds. Their days, which averaged about 15 miles (25 km) of walking, were filled with the wonders of what they would see next and who they would meet as the goal of Santiago grew closer. "Walking the Camino without knowing exactly what was coming next, or where I would eat, or where I would sleep, I have been reminded to trust in God with the little things as well as the big things in my life," said Katherine.
Completing the Camino was on Katherine's dream list, and she felt there had been several signs from God calling her to walk the Camino this summer. "One of these was in working in fourth grade and discovering I would be teaching a unit on Europe in the Middle Ages, including medieval religious pilgrimages," said Katherine. She will be incorporating her experience on the Camino into the fourth grade Social Studies unit at Rosarian Academy.
Reflecting on her pilgrimage, Katherine shared the below lessons and insights from her Camino:
Follow the arrows. "The entire path is marked with yellow arrows to guide pilgrims on their way. It seemed like just about every time I would be unsure if I was headed the right way or which way I should go, an arrow would appear. This was a lesson to me to follow the arrows in my life. There are people and events in my life pointing me in the right direction and helping to guide my way, if only I pay attention," reflected Katherine.
Walk your own Camino. "On the Camino, it's ok to walk your own pace and your own way. You might be faster than some people and slower than some people. Your experience will look different from others' experiences. It's better to stop comparing myself to others on the Camino and in life," mentioned Katherine.
Keep it simple. Katherine said, "Life on the Camino is simple. Wake up, pack your belongings in your backpack, and start walking. Everything you have and everything you need is in your backpack. Taking this lesson back with me encourages me to keep things simple and focus on what's really important. There are so few things that I actually need to be happy and fulfilled."
Everyone has a story. "One of the highlights of the Camino was meeting so many amazing people of all ages, from all over the world. The shared experience of walking the Camino together helps people form bonds and get very honest and open with each other very quickly. Hearing the stories of other pilgrims reminds me that when I look at someone, I never know what they may have gone through. Returning home, this makes me want to take the time to learn more about the stories of my family, friends, students, and anyone that I may meet," shared Katherine.
Rosarian Academy, founded in 1925, educates students from early childhood through eighth grade and offers an exceptionally strong academic program enriched by athletics, visual and performing arts, and community service opportunities. The independent, Catholic school is located on Flagler Drive in downtown West Palm Beach and is sponsored by the Adrian Dominican Sisters. For more information, visit http://www.rosarian.org or call 561.832.5131.