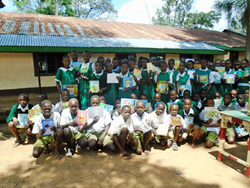 ... all students will move forward with a better degree of clarity about where their interests and abilities intersect.
West Palm Beach, FL (PRWEB) September 09, 2015
Rosarian Academy Middle School Literature teacher, Patrick Hansen, recognizes his role to help his students become independent learners to aid in the exploration of their interests and find their passions—even if that passion is outside the realm of the literary text they are reading as part of the school's curriculum. In the second half of the 2014-15 school year, Mr. Hansen implemented 20% time in his classroom: allowing students 20% of class time, or one class period per week, to work on or explore a topic of their choice. The result? Students like current eighth-grader Hailey Albergo starting a school-wide service project to collect and send used books to underprivileged children in Africa.
20% time is a movement in education to give students the opportunity to develop passion through the pursuit of a personal interest project. The concept was popularized at Google where management found that employees were more creative and innovative when given the autonomy to pursue a project outside of their job description. This resulted in the origination of products like Gmail, Google News, and Google Teacher Academy.
By implementing 20% time in the classroom, students become autonomous learners as they develop their own idea for a project that allows them to explore an interest outside of what is taught in school.
"As an educator who has seen students struggle to find their passion in high school and college, I implemented the 20% time project to help students explore their interests outside of the curriculum with the hope that while not every student's project will spark a long, passion-driven life journey, all students will move forward with a better degree of clarity about where their interests and abilities intersect," said Mr. Hansen.
At Rosarian, students had seven weeks to create their own self-directed project. Through Hailey's book drive, she not only collected over 1,000 books but also developed a relationship with a local non-profit, Kijana Educational Empowerment Initiative, that helped her ship the books to a primary school in a rural village in Bunyore, Kenya. The books arrived in Kenya at the end of August. In an August 24th email from Jim Cummings, the founder of Kijana, to Hailey, Mr. Cummings attached pictures and wrote, "Check out the happiness."
Hailey's 20% time project quickly became Rosarian Academy's school mission in practice. Through her work, Hailey and her schoolmates can tangibly see that we are a global community and can each make a positive difference in the world. There is no doubt that this project has led Hailey to a new interest in helping the children of Africa. In a reply email to Mr. Cummings, Hailey wrote, "I would love to work with you again…I'm just so happy I helped!"
Examples of other student projects included: writing a screenplay, fish taxidermy, exploring robotics and aerodynamics, web design, video game development, architecture, learning a language such as Gaelic or Braille, and much more.
This school year, Mr. Hansen plans to continue the 20% time project and continue to help students spark their own individual passions.
Rosarian Academy, founded in 1925, educates students from early childhood through eighth grade and offers an exceptionally strong academic program enriched by athletics, visual and performing arts, and community service opportunities. The independent, Catholic school is located on Flagler Drive in downtown West Palm Beach and is sponsored by the Adrian Dominican Sisters. For more information, visit http://www.rosarian.org or call 561.832.5131.