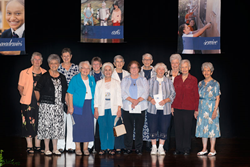 Rosarian Academy is not 90 years old—it's 90 years vital!
West Palm Beach, FL (PRWEB) September 17, 2015
Rosarian Academy celebrates 90 years of providing "A Foundation for Life. A Tradition of Excellence." On September 12, 2015, nearly 400 members of the Rosarian community—including students, families, alumni, faculty, staff, past principals, Adrian Dominican Sisters, and friends—gathered for a reception and one-hour program at the school. Rosarian has stood as an educational landmark in Palm Beach County since 1925 and continues to enrich the lives of students and families with a strong academic program enhanced by faith, athletics, visual and performing arts, and community service opportunities.
The program for the 90th Anniversary Celebration took place in the school's 50-year-old theater and included an entertaining review of Rosarian's history performed by current students; an opening prayer by Reverend Brian King, Episcopal Secretary to Bishop Gerald M. Barbarito; proclamations from the Honorable Jeri Muoio, Mayor of the City of West Palm Beach, and the Honorable Gail Coniglio, Mayor of the Town of Palm Beach; an address from the Adrian Dominican Sisters, the school's founding sponsor; and the introduction of Rosarian's new Head of School Stephen Rubenacker.
The 'Rosarian Review' highlighted major moments and events in Rosarian's rich history, such as the opening of the school's first building for girls only, Bradley Hall, in September 1925; the addition of the swimming pool in 1959; the establishment of the Montessori School in 1974; the closing of the high school in 1991; and the present-day co-ed, early-childhood-through-eighth-grade structure of the school. This portion of the program was anchored by actors Sailor Kate Ashley (7th grade), Emma Hardyman (6th grade), Crede Janson (5th grade), Nicholas Stewart (4th grade), and Robbie Vargas (6th grade). The skit conveyed that regardless of various changes that have taken place throughout the last 90 years, Rosarian's principles have remained the same. The school has always placed the utmost importance on strong moral and spiritual values, intellectual growth, and civic-minded responsibility. No matter what the future holds for Rosarian, these important tenants will remain a priority.
Thirteen Adrian Dominican Sisters—all part of the order who founded the school in 1925 and continue to sponsor it today—attended the 90th celebration, including former principal Sr. Grace Flowers, OP, who read a letter on behalf of Sr. Attracta Kelly, Prioress.
"Rosarian Academy is not 90 years old—it's 90 years vital! The commitment of faculty, staff and administration to educational excellence and a mission-centered curriculum is the foundation that has created this dynamic environment. At Rosarian, now and throughout our history, students have not only flourished academically, but have also developed the core values of prayer, study, reflection and action that enable them to build meaningful lives and make a positive difference in our world," read Sr. Grace.
Mayor Jeri Muoio proclaimed, "We commend the fine work—past, present and future—of Rosarian Academy, and we join with our beloved Dominican Sisters to 'influence society positively and actively as they seek truth, make peace, and reverence life.'"
Following the proclamations from Mayors Muoio and Coniglio, John C. Cassidy, Jr., Chairman of the Board, introduced Head of School Stephen Rubenacker who is new to Rosarian Academy as of July 2015.
Mr. Rubenacker concluded his address with, "Looking forward to the next 90 years, we look forward to enhancing a program that fosters not only the basic skills that are necessary, but an enhanced, individualized experience that will equip our children for a challenging world. This includes a program that embraces those twenty-first century skills, as well as fostering an entrepreneurial spirit, collaborative nature, and a heightened sense of awareness around what it means to be part of a global community. To this end, our children will understand how to safely and ethically engage in a networked world and will remember that their learning is not only limited to the time that they are in school, but a life-long endeavor that they should continually work to grow from. By enthusiastically embracing their faith as well as their own learning, our graduates will continue to set the world on fire, for many years to come."
90 years after being established, Rosarian Academy continues to be the only independent, Catholic school in Palm Beach County, presenting its students with a standard of excellence second to none while providing the foundation to live life with faith, knowledge, and service.
Rosarian Academy educates students from early childhood through eighth grade and is located on Flagler Drive in downtown West Palm Beach. For more information, visit http://www.rosarian.org or call 561.832.5131.