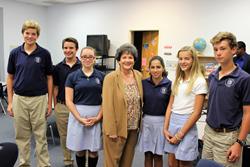 The Pope's teachings completely align with Rosarian's mission: to educate the whole person for life in a global community in the light of Gospel values.
West Palm Beach, FL (PRWEB) September 30, 2015
Rosarian Academy was visited by U.S. Representative Lois Frankel, (D-Fla.), of West Palm Beach's District 22, to pay a visit to her constituents, albeit young ones. During her visit, Rep. Frankel distributed 10 tickets to see Pope Francis on the west lawn of the Capitol in Washington, D. C., during his recent trip to the U.S.
"We are honored that Rep. Frankel thought of Rosarian Academy," Head of School Steve Rubenacker said. "Our students are elated to have this opportunity to connect their faith and their religion classes here at Rosarian with such a landmark visit by Pope Francis."
During her visit to the school, Congresswoman Frankel first addressed the entire eighth-grade class to discuss her job and the U.S. Congress and then had a roundtable discussion with the six Rosarian Academy students flying to see the Pope later this week. She asked the students what they expect to hear from the Pope and what questions they would have for him.
The six students who will be making the trip to D.C. include: Hailey Albergo of Palm Beach, Charlotte Breckenridge of West Palm Beach, Peter Fields of Riviera Beach, Robert Fox of Atlantis, Liam Groth of West Palm Beach, and Mariana Perez-Vargas of West Palm Beach. Accompanying the students as chaperones are Rubenacker, Middle School Director Sr. Donna Baker, Religion Teacher Francesca Coniglio Finck, and parent Michael Groth.
Following the Pope's address, Frankel will host the students and chaperones for a lunch reception where she plans to have a follow-up discussion on Pope Francis' message.
Rosarian Academy eighth-graders were asked earlier this month to respond to their religion homework assignment which posed the question, "If you had the opportunity to meet with Pope Francis next week in D.C., what would you want to discuss with him and why?" The selection of the six students who will see the Pope was based on their answers to that question.
"Their answers were insightful and interesting," explained Sr. Donna who is an Adrian Dominican Sister and eighth-grade religion teacher at Rosarian. "Young people's minds are impressionable and you never know exactly what they are thinking about until you pose an open-ended question such as the one about Pope Francis.
"The Pope's teachings completely align with Rosarian's mission: to educate the whole person for life in a global community in the light of Gospel values. Pope Francis stresses 'TOTAL love of God the Father, God the Son, and God the Holy Spirit, and TOTAL love of neighbor.' We share that message with our students as well."
Rosarian Academy, founded in 1925, educates students from early childhood through eighth grade. The school offers an exceptionally strong academic program enriched by visual and performing arts, athletics, and community service. The independent, Catholic school is located on Flagler Drive near downtown West Palm Beach and is sponsored by the Adrian Dominican Sisters. Rosarian is celebrating its 90th anniversary this school year. For more information, visit http://www.rosarian.org or call 561-832-5131.