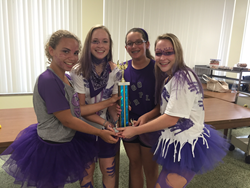 Every single one of the teams did an amazing job, and I am proud of the entire eighth-grade class for supporting all of their teams and doing such a good job.
West Palm Beach, Florida (PRWEB) October 14, 2015
Rosarian Academy students were clad wildly from head to toe in their team colors: Red, Orange, Yellow, Green, Blue, Pink, Purple, Black & White. The fifth-through-eighth-grade students competed in athletic events, such as: relay races, basketball, volleyball, dance, capture the flag, hula hoop, and bocce ball. This year, the Purple Team took first place with 175 points, just three points ahead of the Green Team's 172-point finish. Following close behind, Red finished with 170 points and Orange with 169 points. Although the teams competed to showcase the first place trophy in their team leader's classroom, the focus of Field Day was on good sportsmanship—being "athletes of Christ," like St. Dominic.
Members of the Purple Team and eighth graders Lily and Daisy Cook have attended Rosarian since the toddler program and shared what it meant to them to win Field Day.
"Winning first place in this Rosarian Mission Day/Field Day means so much to us. We are so proud of the Purple Team and all the teams that participated," said Lily.
Daisy added, "Every single one of the teams did an amazing job, and I am proud of the entire eighth-grade class for supporting all of their teams and doing such a good job."
Field Day is also known as Mission Day as money is raised to support "missions" of the Adrian Dominican Sisters. This year, two missions are being supported. Over $1,700 was raised and will be donated to the Adrian Rea Literacy Center. Located on the Adrian Dominican motherhouse campus, the Literacy Center assists adults to become more self-sufficient and confident as they acquire skills in reading, writing, and basic math. In addition to raising funds, Field Day participants brought in over 160 cans of food to donate to St. Ann Place in honor of St. Ann School's Athletic Director Ray Cheron, who recently passed away after being a part of their school family for the past fourteen years. St. Ann Place is the Church's outreach center for services to homeless women and men.
As an annual tradition, Rosarian spends the first full week of October each year celebrating its service, faith, community, spirit, and mission—all of which have been a part of the history of Palm Beach County for 90 years. This year, Rosarian Week took place October 5 - 9 with Monday as Service Day, Tuesday Spirit Day, Wednesday Faith Day, Thursday Community Day, and Friday Mission Day/Field Day. Rosarian Week 2015 was a significant time for the Rosarian community as the school celebrates 90 years of providing "A Foundation for Life. A Tradition of Excellence."
Rosarian Academy, founded in 1925, educates students from early childhood through eighth grade and offers an exceptionally strong academic program enriched by athletics, visual and performing arts, and community service opportunities. The independent, Catholic school is located on Flagler Drive in downtown West Palm Beach and is sponsored by the Adrian Dominican Sisters. For more information, visit http://www.rosarian.org or call 561.832.5131.