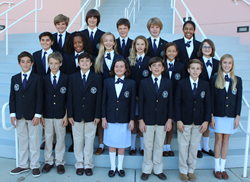 West Palm Beach, Florida (PRWEB) October 23, 2015
Rosarian Academy proudly announces nineteen of their seventh-grade students qualified for and have been recognized as Duke University Talent Identification Program (Duke TIP) Scholars. These students earned at least a 95 percentile or higher on an acceptable composite or subtest area from a previous standardized test.
Duke University's Talent Identification Program is a nonprofit organization dedicated to serving academically talented youth. As a global leader in gifted education, Duke TIP works with students, families, and educators to identify, recognize, challenge, engage, and support gifted youth in reaching their highest potential. More than 2.5 million students have benefited from TIP programs and resources since 1980. TIP's talent identification, academic, and research programs now serve as worldwide models for the education of gifted students.
The Duke TIP allows students an opportunity to pursue an out-of-level testing experience by inviting them to participate in taking either the SAT or ACT college entrance examinations. These tests are exactly the same as that of high school juniors and seniors preparing for college admission. In addition to building their testing skills, students also have the opportunity to learn and/or possibly participate in other programs for academically talented students.
Congratulations to the following qualifying Rosarian Academy students:
Sailor Kate Ashley, Remi Beaud, Hope Diffenderfer, Devyn Dyett, Lorenzo Escobar, Gabriella Faber, Isabella Fiorentino, Marlowe Flom, Aidan Griffiths, Van Gronberg, Javier Keough, Sofia Mendez, John Molina, Matthew Mullen, Drew O'Brien, Max Sanderson, Lacey Steele, Isabella Vega-Dadurian, and Hannah Wilson
The nineteen Duke TIP scholars make up 58% of Rosarian's seventh-grade class. Currently, Rosarian Academy has a total of 33 Duke TIP students in both its seventh- and eighth-grade classes.
Rosarian Academy, founded in 1925, educates students from early childhood through eighth grade. The school offers an exceptionally strong academic program enriched by visual and performing arts, athletics, and community service. The independent, Catholic school is located on Flagler Drive near downtown West Palm Beach and is sponsored by the Adrian Dominican Sisters. Rosarian is celebrating its 90th anniversary this school year. For more information, visit http://www.rosarian.org or call 561-832-5131.