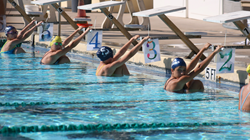 Swimming has been a part of Rosarian Academy for 58 years, long before many interscholastic sports were offered in Florida.
West Palm Beach, Florida (PRWEB) October 29, 2015
Rosarian won the 25th Rosarian Academy Invitational Swim Meet held at Lake Lytal on Saturday, October 24, 2015. Coached by Mrs. Jan Wallace and Mrs. Ginny Downes, the 60 kindergarten-through-eighth-grade swimmers came out strong and fought hard against the four other schools competing. The team finished with a 169-point victory over Palm Beach Day Academy, who placed second. In third, fourth, and fifth places were St. Clare, St. Ann and All Saints, respectively. The final scores were Rosarian: 689, Palm Beach Day: 520, St. Clare: 217, St. Ann: 132, All Saints: 118.
Rosarian Middle School students, Charlotte Breckenridge, Lolly Colton, Gemma Conroy, Natalie Goffe, and Emma Guerrieri took first place in each of their races. In the Lower School, Vivienne Angle, Harrison Ashley, Emma Chopin, Nick Coniglio, James Flynn, Eleanor Hall, Kepa Mendia, and Whitney Ray won first place awards.
Starting in 1959, Rosarian Academy was blessed to have a swimming pool and swim program in the physical education classes. The Rosarian Academy Invitational Swim Meet was started in 1990 to encourage other schools to get involved with swimming and participate in a swim meet. Doug Rozelle started the Invitational Swim Meet and was Rosarian's coach for many years. Rosarian stands proud as it continues to provide a strong academic program enhanced by athletics.
Cathy Reader, former Rosarian Athletic Director and Physical Education Teacher and current Director of Facilities, has been involved with every swim meet since its inaugural year. As Athletic Director, Ms. Reader continued the swimming program once the pool was removed from Rosarian's facilities in 2006.
"Swimming has been a part of Rosarian Academy for 58 years, long before many interscholastic sports were offered in Florida. May it continue to be an important part in our school's athletic program," said Ms. Reader, who is in her 45th year working at the school.
For the last fourteen years, Jan Wallace and Ginny Downes have coached the Rosarian Academy Swim Team and have continued to grow the program using the Lake Lytal facilities. Both Mrs. Wallace and Mrs. Downes are retiring from coaching at the end of this year.
Coach Wallace commented, "The thing that Ginny and I have enjoyed so much over these past fourteen years is to see the younger swimmers improve and go on to join local swim teams or just continue with our program and improve. We have always asked the impossible of them as our season is so short and there is much training to be accomplished in that limited amount of time."
For the first time in the school's history, kindergarteners were invited to join the Swim Team and compete. Ms. Devin Andersen coached these youngest swimmers. The participating swimmers ranged in skill level from beginner to those who swim in competitive programs.
Rosarian Academy, founded in 1925, educates students from early childhood through eighth grade and offers an exceptionally strong academic program enriched by athletics, visual and performing arts, and community service opportunities. The independent, Catholic school is located on Flagler Drive in downtown West Palm Beach and is sponsored by the Adrian Dominican Sisters. For more information, visit http://www.rosarian.org or call 561.832.5131.