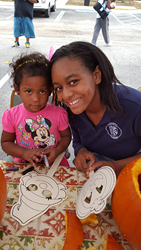 West Palm Beach, Florida (PRWEB) November 04, 2015
Rosarian Academy children, when October arrives, become elated to unbox their spooky decorations, decide on a costume, carve jack-o-lanterns, and prepare for a candy-filled Halloween night at the end of the month. The students at Rosarian also recognize the unfortunate reality that not all of the children in our community have the opportunity to celebrate fun holidays like Halloween due to circumstances out of their control. As a solution, students provided Halloween cheer for children at The Lord's Place and Palm Beach Children's Hospital.
On Wednesday, October 28, 2015, 35 middle school students from Rosarian Academy participated in the 4th Annual Pumpkin Carving Party at The Lord's Place Family Campus. The Rosarian students paired up with children who are currently housed by The Lord's Place to carve pumpkins, paint faces, make Halloween crafts, and share stories and have fun together.
Though a school-wide effort, approximately 50 pumpkins were collected as well as around 15 Halloween costumes to donate to The Lord's Place. The Rosarian National Junior Honor Society organized the event and is in the process of planning a Christmas party for the Lord's Place children in December.
The Lord's Place Housing Programs provide shelter for homeless men, women and children and help residents identify the issues that led to their homelessness. The Lord's Place gives their residents the tools they need to stabilize their lives, while providing safe homes so they can thrive. Currently, about 60 children reside at the Family Campus. In addition to the Family Campus, The Lord's Place has two other campuses—one for homeless men and one for single homeless women. For more information, visit: TheLordsPlace.org
This year, some Rosarian Academy Lower School students also spread 'spooktacular' fun to the children at Palm Beach Children's Hospital. Each second-grade student decorated two Halloween bags and filled them with items such as puzzles and coloring books. Through the Alliance for Kids, the bags were distributed to the children staying at the hospital.
The Palm Beach Children's Hospital is located at St. Mary's Medical Center and is dedicated exclusively to the healthcare needs of children. Alliance for Kids is a non-profit organization committed to providing resources, special programs, and services for hospitalized children and their families. For more information, visit: AllianceforKids.com
Rosarian Academy, founded in 1925, educates students from early childhood through eighth grade and offers an exceptionally strong academic program enriched by athletics, visual and performing arts, and community service opportunities. The independent, Catholic school is located on Flagler Drive in downtown West Palm Beach and is sponsored by the Adrian Dominican Sisters. Rosarian is celebrating its 90th anniversary this school year. For more information, visit http://www.rosarian.org or call 561.832.5131