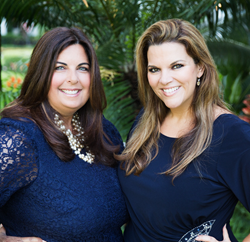 West Palm Beach, Florida (PRWEB) November 12, 2015
Rosarian Academy is readying for a tropical, yet elegant, evening at The Breakers for the school's 37th Annual Auction & Ball, Caribbean Nights—Paradise Found at Rosarian Academy, on November 21, 2015. Auction Chairs, Marian Macias and Adrianne Sanchez, plan to add Caribbean flair to the Venetian and Mediterranean ballrooms as they transform them into a tropical paradise filled with hundreds of members of the Rosarian community.
With the goal of raising $350,000 for the local private school, the chairwomen and their vast committee are planning an event to be remembered, including silent and live auctions, dinner, dancing, raffles and more. While guests will use smart phones and iPads to bid for silent auction items through BidPal for the third consecutive year, auctioneer and long-time supporter of Rosarian Academy, Jim Arrigo, will lead the live auction. Joan and Brian O'Connell are the Honorary Chairs of the event.
All guests who have purchased tickets to the Auction & Ball will be able to start bidding 48 hours in advance of the event. This added perk for ticket holders allows them to win bids before they arrive and have their "watchlist" working so they can enjoy the evening with family and friends even more.
The tradition of the Auction & Ball, the school's largest annual fundraiser, is a well-loved and attended event by the Rosarian Academy community who recognizes "Paradise Found at Rosarian Academy." For nearly 25 years, Rosarian has been holding this event at The Breakers.
As an independent school, Rosarian relies solely on donations and fundraising activities to bridge the gap between tuition revenue and the actual cost of educating students. For more information on the Auction or to purchase tickets, please visit Rosarian.org/Caribbean_Nights or contact Kathleen Beazley, Auction Consultant, at 561-345-3109. Ticket sales close at 9:00 am on Wednesday, November 18th.
About Rosarian Academy
Rosarian Academy, founded in 1925, educates students from early childhood through eighth grade and offers an exceptionally strong academic program enriched by athletics, visual and performing arts, and community service opportunities. The independent, Catholic school is located on Flagler Drive in downtown West Palm Beach and is sponsored by the Adrian Dominican Sisters. Rosarian is celebrating its 90th anniversary this school year. For more information, visit Rosarian.org or call 561.832.5131.