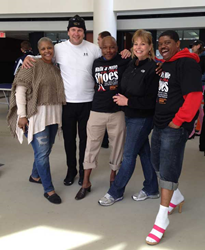 1 our of every 6 women will be a victim of sexual assault in the United States.
Norfolk, VA (PRWEB) April 22, 2014
Several members of the Rose & Womble Lynnhaven Resale Office participated in the 3rd annual A Walk in Her Shoes, an event to raise awareness about violence against women. Managing Broker John Daly, Assistant Managing Broker Norman Thomas, and REALTORS® Mike Harvey and Will Araiza all participated in the walk which happened at the World Trade Center building in Norfolk on April 18, 2014. These men got involved with the march after hearing about the event from Denise Britt, a REALTOR® also from the Lynnhaven office.
"I got involved with this cause after participating with our office helping to remodel several rooms at the YWCA in Norfolk. The Rose & Womble Foundation and our office worked to raise funds and brought in volunteers to help. After that I wanted to do more," said Britt.
Britt, who used to work as a hair stylist, who lost a client to domestic violence, helped to co-form a non-profit organization called Daughters of Life. The organization works in the Hampton Roads area to help families in crisis, provide scholarships, and other forms of out reach. Her organization helped to remodel other rooms at the YWCA.
"Being a REALTOR®, I help people find shelter, and that is what Daughters of Life is all about, helping to provide safe shelter for those in need. I want to encourage other members of Rose & Womble to join me because it's a perfect partnership to what we already provide," said Britt.
Mike Harvey, one of the men who participated, said that the event gave him a better appreciation for women. He borrowed the shoes for the walk from his girlfriend.
"Well my feet hurt, and my calves are killing me. I don't know how women walk in these shoes. But seriously, this was a great cause because its important to bring awareness of an issue that I feel doesn't get enough attention," said Harvey.
For more information about Daughters of Life please visit their website http://www.daughtersoflife.com.
About Rose & Womble Realty Company
Rose and Womble Realty Company is headquartered in Virginia Beach; with over 600 resale agents, they have been consistently listed on National Relocation & Real Estate Magazine's Annual Power Broker Reports. In addition to its New Homes Division, Rose and Womble has ten resale offices and various other departments which include: Relocation, Property Management, and Marketing. Affiliated companies include Residential Data Bank (market research), Advance Title & Abstract, and Land Planning Solutions. To learn more about Rose & Womble Realty Company, visit http://www.roseandwomble.com.