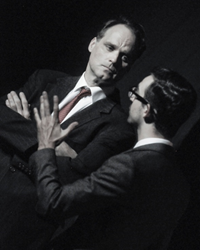 "The new play ROSEBURG is a fever-dream of political theatre and its timeliness is eerily unsettling." -- The Philadelphia Inquirer
Philadelphia, PA (PRWEB) July 26, 2016
New City Stage Company completes the last week of of the world premier of ROSEBURG, a new play written and directed by award winning theater artist Ginger Dayle and starring television and film actor Russ Widdall of HBO's THE WIRE. The show runs until July 31, 2016 at the Adrienne Theatre in Philadelphia, Tickets can be purchased on New City Stage Company's web site or by calling 866-811-4111.
The show has received excellent reviews in Philadelphia thus far, saying "it couldn't be more relevant" with "many of the dramatic scenes are compelling, and Dayle gives them a dynamic staging" that "will give you a lot to think about" according to DC Metro Theatre Arts. The Philadelphia Inquirer describes the play as "a fever dream of political theater, and its timeliness is eerily unsettling." And Philadelphia Magazine says the "heartfelt work-in-progress" is "smart and sobering."
The play recounts, in a parallel structure, two events in Roseburg, Oregon — a 2015 shooting at a community college, and a 1968 speech on gun control by then-presidential candidate Robert Kennedy, less than 10 days before his assassination. The play was commissioned by New City Stage Company specifically for Russ Widdall to portray Robert F. Kennedy, a role he created in the one man show RFK, which ran multiple times in Philadelphia and Washington, D.C. in 2012 and 2013.
There are Roseburg area residents who are up in arms about the show, none of whom have actually seen or read it, and apparently haven't read what it's about. Many Roseburg residents have gone to Facebook to complain do not even mention that the majority of the play is about Robert F. Kennedy's 1968 pro-gun control speech in that town. A local Roseburg started a petition to have the play banned but will deliver it to the Roseburg, Oregon courthouse after the play has ended, instead of to the Philadelphia district where the show is currently running. Local Philadelphia officials fully support the play and have no intention of shutting it down. Another Roseburg resident has threatened to burn done the theater multiple times and has used Facebook to attack the actors and playwright, despite the entire play having Fair Use and First Amendment protection. "I have received over 1000 emails from Roseburg natives who have not done research on the play's content who insult, threaten, bully, and attempt to suppress my right to create original plays with public domain source material," says playwright Ginger Dayle.
Despite the unfounded negativity, the playwright has received many messages of support from the Philadelphia and New York theater communities, as well as from many Roseburg locals who understand the right the free speech and do not want to judge something they have not seen. Several Roseburg natives who have actually seen the play and all of been very supportive of the project, calling it a fair and balanced representation of the the town and varying views on gun control.
The play has received multiple production inquiries and there are already performances scheduled for Washington, D.C. and New York for the summer 2017. After the last show on July 31, Ms. Dayle will edit the workshop version of the script for it's next production.
As a result of the publicity, playwright Ginger Dayle has been commissioned to write a play about the Kennedy-Nixon presidential debates pf 1960, which will receive a staged reading on November 2016. The play is being researched at the John F. Kennedy Presidential Library in August.