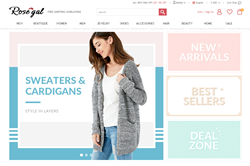 Fall hot sale to be the cheapest time of the season to get the latest fall fashions.
Shenzhen, China (PRWEB) September 21, 2016
The way one is first perceived is usually by the fashion they wear. Rosegal was started as a means to deliver the latest fashion products at an affordable price. This combination of cheap prices with high quality and new fashions has resulted in Rosegal becoming one of the most popular fashion e-commerce websites. Today Rosegal sees millions of users every year and stocks thousands of products. Rosegal is proud to announce fall inventory is in and that the company is celebrating with a fall hot sale. This will give customers a chance to get the latest fall fashions for cheap and get them as soon as possible.
Rosegal appreciates its loyal customer base and understands that many come with the expectation that all products will be affordable. With fall just around the corner Rosegal would like to introduce the new fall line of clothing and accessories with a fall hot sale. This new sale will not only be the launch of amazing new products, but it will also be a time where there will be introductory pricing. This is a great time to buy for customers because fall has not officially started yet so they can get the latest fashions sooner, and because prices will be lower than any other time of the year.
The fall hot sale will showcase the most desired fall products. The first stage being knitwear, plus sized clothing, and jumpsuits. Rosegal will have the best products from these categories on sale for up to 50% off. Rosegal has chosen these products because of their high demand in the season. Knitwear is one of rising in demand and looks to be the hottest fall product. Jumpsuits will include cardigans, print jumpsuits, off the shoulder sweaters, and other comfortable fashions.
Customers who cannot wait for the first phase of the fall hot sale should check out the Tuesday and Wednesday member's day pages. Here Rosegal members will be offered exclusive deals on the latest and hottest fashions as chosen by Rosegal staff. Each week Rosegal staff will choose new products to showcase for member's days. Customers are encouraged to keep checking back in subsequent weeks.
To know more about Rosegal, please visit http://www.rosegal.com/. SammyDress and Zaful are sister sites of Rosegal and have their own uniqueness. They are also wonderful places to go for online shopping.