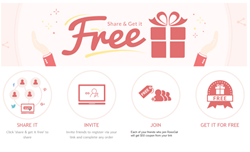 Rosegal Introduces New Incentive Based Program
Shenzhen China (PRWEB) August 10, 2016
The 1920s was a time of fashion innovation, conservative convictions began to fall to death ears and more trendy fashions started to appear. Today Rosegal commemorates this time with its vintage fashion line that mimics everything from the 20s to the last 20 years. Rosegal exclusively sells off their website, providing not only the greatest fashions, but also high quality and affordable products that include both clothing garments and accessories. Today Rosegal is proud to announce the launch of its "Get It Free" program.
The Get It Free program is an initiative to get more people shopping at Rosegal through current users sharing the website and specific products. There is incentive for everyone to use this program. Current customers just need to share Rosegal products through their social media pages (ex. Facebook and Twitter) and for each person that signs up and buys that product Rosegal will give the sharer that same product free. The customer who signs up and buys the product will also be rewarded with up to $50 USD in Rosegal coupons.
The Get It Free program has now been active for a month, and Rosegal has seen major success. Currently there has been over 2000 links shared, of those 2000 shares 150 people have gotten others to buy the product and thus receiving that same product free. Rosegal has started an activities discussion group to get user opinion about the Get It Free Program and all other programs going forward. Users who provide valuable feedback that is used will be provided with $20 USD Cash coupons.
To better assist all deliveries going forward Rosegal has begun to offer more logistic options for priority direct mail. Customers will continue getting the same low prices that they love from Rosegal, but will also have more options for priority direct mail. This should keep delivery costs competitive while not increasing the prices as much for speed. Rosegal will be monitoring the new logistic options closely and will be looking to add more going forward, the end goal of Rosegal is to provide the customers as many options as possible so they can keep their prices down and continue shopping.
Clients can also visit the other websites from Globalegrow such as Zaful and Sammydress for more fashion clothing.
Related link:http://www.rosegal.com/