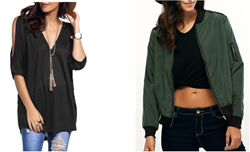 Customers who buy now will receive limited time discounts on the latest fashions.
Shenzhen, China (PRWEB) September 01, 2016
Rosegal has pioneered itself as being one of the initial fashion e-commerce sites to focus on both quality products and affordable prices. The company has used this model to successfully become one of the largest online retailers in the world. Rosegal focuses on selling vintage fashions from the 1920s to modern looks of the early 2000s. This combination of style leaves products for every generation. Today Rosegal is proud to announce the launch of its new fall line up with an introductory sale. The new fashions will provide customers the latest fashions that are appropriate for the weather conditions of the fall season.
The new fall lineup comes after months of research and design. Since early Summer Rosegal has had an in house fashion task force scouring the world for up and coming styles for the fall season. The early planning has resulted in an extensive collection of premium fall fashion products. Some products to be sold include print dresses, aviator jackets, off the shoulder t-shirts, jeans, sweaters, cardigans as well as oversized coats. More products are coming and customers are asked to keep checking back as the collection begins to roll out.
The fall launch sale at Rosegal will begin on September 1, 2016 with all fall products on sale. Products will be marked down at least 50% off. The Fall launch sale is for a limited time and will end on September 5, 2016. Customers are encouraged to sign up now and take advantage of the amazing deals before they are gone.
The fall launch sale also has highlighted products chosen by the Rosegal fashion team. This allows those unaware of fall fashion to get the trending products first. This fall Rosegal has concluded that MA-1 Aviator Jackets will be the hottest products. These jackets are an iconic look from the 1970s - 1980s. The jackets have made their way back to popular fashion events and will surely be a fall 2016 must have. To go with The MA-1 Aviator Jackets, Rosegal is suggesting customers look into getting jeans as they are often the most friendly for fall and look great with the aviator jackets. For those looking for more indoor attire Rosegal suggests cold shoulder clothing. These pieces keep most of the body warm but offer some sexual appeal by exposing the individual's shoulders.
To know more about Rosegal, please visit http://www.rosegal.com/. SammyDress and Zaful are sister sites of Rosegal and they has their own uniqueness. They are also wonderful places to go for online shopping.
Related link:
http://www.rosegal.com/
Email: support(at)rosegal(dot)com