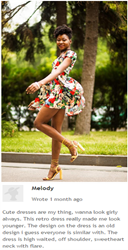 100 Winners Receive Gift Certificates to Rosegal for Sharing Pictures
Shenzhen China (PRWEB) August 17, 2016
Rosegal is a subsidiary of Globalegrow and sister site of Zaful and SammyDress. Rosegal was started to fuse the gap between vintage and modern clothing. No longer do customers have to travel to other websites or stores to pick up different styles, they are all found at Rosegal. Customers have embraced Rosegal as being the go to e-commerce store to shop at and the company has been able to grow exponentially since. Rosegal is always looking to improve and bring in more customers. Today executives at Rosegal are proud to announce the success of the Rising Stars Program and the 100 gift cards given out so far. Customers are simply being rewarded for sharing their genuine Rosegal products.
High end cameras used at Rosegal make items look good to the point of it being hard to recreate with traditional lenses, there is no doubt that good lighting along with the proper clothes and accessories can make a product look amazing. Sometimes customers can feel let down when the lighting is not always the same or they don't have the right accessories to go with it. To mediate this Rosegal started the Rising Stars Program. Customers were given the opportunity to post pictures of themselves in the products they bought, in exchange for gift certificates to Rosegal. Since its inception 2 months ago the Rising Star Program has attracted at a minimum 30 submissions a day. Today Rosegal is proud to announce of that over 100 people have received $20 gift cards for their honest product reviews along with their picture in said product.
The benefit of the Rising Stars Program is that new customers can see what products truly look like on others, how pictures will look when taken with something like a smartphone camera and can judge how they will look taking selfies, or having photos taken by others. Pictures from the Rising Stars challenge are located right on the product page and are easily accessible to shoppers. Rosegal wants customers to feel confident that the products they are buying are truly as described and working on many methods to achieve this. The Rising Stars Program is just the start and new transparency programs are on the horizon.
In the event a customer is unsatisfied with a product Rosegal will be happy to work towards a return or exchange. The company has updated its customer service terms to allow up to 30 days for a return or exchange. No questions will be asked, but customers need to contact Rosgal before sending anything back to ensure it is received right away and money/exchanged can be returned to the right account.
Related link:
http://www.rosegal.com/
Email: support(at)rosegal(dot)com