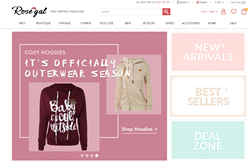 Rosegal Developers Replaced Traditional Payment System with Safer and More Sophisticated One
Shenzhen, China (PRWEB) October 25, 2016
Rosegal, a much respected player in the ecommerce retail market in terms of competitiveness and share of revenue, recently discussed its payment system before the press here in Shenzhen. The owners of the store said that apart from offering high-quality clothing at affordable prices, their motto is now to secure online payments as much as possible. The owners stated that they value their customers and wanted to create a safe online shopping environment. The e-store has recently replaced its traditional payment system with a safer and more sophisticated one, they informed.
While discussing the new payment system and its features and benefits, the owners of Rosegal said that they and their patrons have high trust on PayPal as it is a widely accepted and highly secure payment system. "PayPal is often considered the safest option for shopping online. Customers can even have their money deposited in PayPal and link the payment system with their bank accounts. PayPal also allows users to pay with PayPal credit and even in installations. We have integrated the most trusted payment system of the world into our ecommerce store", announced a top executive from Rosegal.
He also stated that customers who do not have PayPal as a payment option can also pay with their credit card. The ecommerce store has created a payment system which is completely immune to hacking and phishing attempts. The company accepts cards such as Discover, American Express, MasterCard, JCB, VISA and Dinasclub. Rosegal also plans to add more payment options in the future.
However, Rosegal management perfectly understands that local payments might be popular in some countries as local payments always translate into lower transaction fees. "Brazilian buyers can use BoletoBancario, which significantly reduces credit card transaction charges. At this moment, this is the only local payment option we accept but we avow to accept many more local payment options in the future. "We have plans to integrate and accept Cashu, which is a popular local payment system in the Mid-East, Webmoney and Qiwi, which is popular in Russia, Softbanking, which is popular in Europe and many more payment options", he added.
The management of Rosegal also said that Western Union and Wire Transfer are two other available payment options at this moment. Rosegal is committed to working closely with customers to resolve payment related complaints and issues. SammyDress and Zaful, two other sister sites, are following the same policy, the owners added.
Related link: http://www.rosegal.com/
Email: support(at)rosegal.com