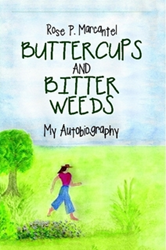 HOUSTON (PRWEB) September 19, 2017
Rose P. Marcantel grew up on a small farm in south Louisiana. Writing about the events that shaped her life, she discovered that it can be a powerful tool and thoroughly satisfying. From the innocence of her childhood to deep chasms of despair, she looks back at the highs and lows and the rewarding in-between times in "Buttercups and Bitter Weeds: My Autobiography" (published by Lulu).
The book tells the story of Marcantel as a young girl growing up on a farm in rural south Louisiana, and takes readers through the years of her youth, marriage, children and grandchildren. She considers the younger generation's curiosity about how they did things in the old days prompted her to put down on paper as much of her life history as she could remember.
"I think that everyone's life is worthwhile and interesting, even if things don't always turn out to be the ideal situation," Marcantel points out. "If they thought carefully about their endeavors, it probably would be a good story. I also think there are lessons for the children and grandchildren somewhere in your experiences and recollections."
"I hope this book will reinforce in the minds of the next generation, a deep appreciation for the courage, strength and perseverance embodied by their ancestors. These roots are embedded in the Cajun culture of south Louisiana, and I encourage them to embrace their heritage with pride," Marcantel concludes.
"Buttercups and Bitter Weeds: My Autobiography"
By Rose P. Marcantel
Hardcover | 6 x 9in | 306 pages | ISBN 9781483467511
Softcover | 6 x 9in | 306 pages | ISBN 9781483431376
E-Book | 306 pages | ISBN 9781483431369
Available at Amazon and Barnes & Noble
About the Author
Rose P. Marcantel grew up on a small farm in south Louisiana. Upon graduation from high school, she attended a business school in Lafayette. After completing business school, she went to work for a utility company in New Iberia, and had been working there for four years when she met her husband. After marriage, their quiet life quickly turned into moves every few years. During this time, she belonged to many social clubs, and served as secretary of various organizations while raising four children. The family's travels were quite extensive, and they finally settled in Houston.
Lulu empowers people of all ages to explore and express their interests, passions and expertise through books, photography and art. Since introducing self-publishing in 2002, Lulu has empowered creators in more than 225 countries and territories to produce nearly two million publications. Lulu Jr. allows children to become published authors, encouraging creativity, strengthening literacy and building self-esteem. Picture.com offers professional photography of collegiate and professional sports, memorable and historic events, fine art and home décor. For more information, please visit http://www.lulu.com.