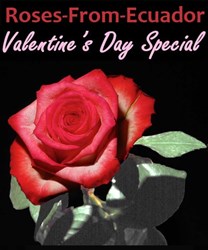 Roses from Ecuador provides fresher quality roses that have longer vase life blooms
(PRWEB) December 02, 2013
As always, Roses from Ecuador provides fresher quality roses that have longer vase life blooms. They guarantee that roses purchased through them will be much higher quality than any other typical provider. The roses from this offer are cut and stored overnight, driven by refrigerated trucks to the Quito airport and flown to Miami to a special refrigerated Fedex facility. They are then shipped to the destination for immediate delivery. Due to an expedited process, these roses will reach their destination within five days after they are originally cut.
The elegant and exquisite flowers stand out because of their intense colors and the large size of the rose head with large petals when fully opened. One Rose in full bloom can cover up to a large man's hand. The roses are grown at the equator where conditions of temperature, sunshine, and rich volcanic soil produce these blooms.
The roses are certified by Veriflora, which means the flowers have been taken care of by a green program that spot checks for ecologically sound systems, water conservation and ecological conservation. As part of the certification for Veriflora, rose farmers practice Fair Trade. They follow labor laws; employees receive a lengthy list of benefits and are respected employees.
The blooms come in red, white, yellow, pink, and high magic (bi-color). Also available for purchase is a mix of assorted colors. The minimum number of roses to order is 50 and customers will need to select a specific February date for delivery.
Sharee Schrader, the owner of Roses-from-Ecuador.com stated "I purchased my first order of 50 roses and gave four friends each a dozen. Each one could not believe the beauty of them and that they ended up having a vase life of about two and half weeks." She also stated "When I purchased roses for myself, they arrived very fresh. I trimmed the stems under running water and then placed them in a vase. I changed the water and trimmed the roses every other day, resulting in a vase life of two and a half weeks. The longevity of the roses depends on the conditions they are kept under and following the special instructions included with the roses on how to make them last." Anyone who receives these roses for Valentine's Day(or any other occasion) will definitely be impressed.
In order to receive this Valentine's Day Special, all orders for Red Roses must be placed prior to December 9th, 2013. Past this date, any other colored roses will be available for a discounted price through the first week of January 2014. To order roses, visit http://www.roses-from-ecuador.com for more information and contact Sharee at drsharee(at)yahoo(dot)com.