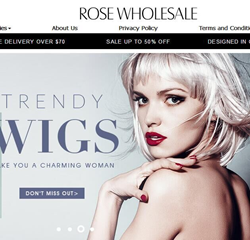 RoseWholesale releases a tip sheet to advise consumers on how to avoid scammers and buying from fraudulent websites
Phoenix, USA (PRWEB) March 17, 2017
RoseWholesale has not changed its name and is still doing business through its website (http://www.RoseWholesale.com). Any sites using other domains should not be RoseWholesale.
Fake websites might display the RoseWholesale name in the banner and are designed to look like the real site. The purpose can be to sell merchandise or to fraudulently collect money and contact information.
There are also several tip-offs to avoid bogus websites and scammers. If a website has no contact information other than a contact form, it cannot be RoseWholesale. Many of the prominent features of RoseWholesale are not included in the fake sites.
"It's extremely unfortunate that unscrupulous people are trying to scam shoppers and tarnish our integrity," said Shulin Lee, Director of Operations for RoseWholesale. "We have an excellent reputation in the international shopping community and we want people to know that using our website is safe."
How to tell the difference

Although the bogus website looks the same, the web address is different so that's the first warning signal. If the URL is anything but http://www.RoseWholesale.com, steer clear.
Go to the "About" section. If the first line does not read "RoseWholesale," then the website is bogus.
Go to the "Contact" section. The real RoseWholesale site includes phone numbers, an e-mail address and a live chat. The fake version has none of these contact options.
Check the site with anti-virus software, like McAfee SECURE or DMCA. Many anti-virus programs automatically alert users if a website is questionable.
RoseWholesale has posted the following disclaimer at the bottom of its site: "Kindly note that there is only one RoseWholesale and that is RoseWholesale.com. Please do not place orders on any site claiming to be RoseWholesale but using a different URL. We are not affiliated in any way with those other sites."
"We release the tip sheet to protect customers," said Shulin. "In the meanwhile, we urge shoppers to be very careful and always use a secure form of payment for any online purchase."
About RoseWholesale
RoseWholesale, a cross-border e-retailer, sells fashion apparel and home products at wholesale prices. Although based in Asia, 43 percent of the company's sales are generated by US customers.
Contact:
Name: Rose
Email: news(at)rosewholesale(dot)com
Website: http://www.rosewholesale.com
Phone number: +(1) 888-969-8881