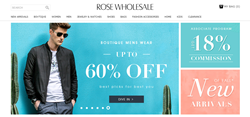 Customers from both genders are now able to get the latest fashions at affordable prices
(PRWEB) October 07, 2016
Rosewholesale is a world renowned for having the latest fashions at affordable prices. Like sister sites Dresslily and Nastydress, Rosewholesale works directly with manufacturing plants to get the cheapest products while keeping strict quality standards. Rosewholesale takes things one step further by offering close to wholesale rates with no memberships required. This creates a totally revolutionary business model that allows customers from all social and economic classes to be able to afford designer quality products. In the past Rosewholesale was almost exclusive to women's fashion, however men have been asking the company to add more to their section. Today Rosewholesale executives are proud to announce the launch of a new menswear collection. The new collection will include many new products and give men a great place to shop affordably.
Rosewholesale designers see a huge lacking in premium mens products. Many premium brands with the latest trends cost a lot of money, forcing men to buy unattractive clothes. Rosewholesale believes that their are no unhandsome men, rather a lot of men cannot dress themselves or do not have the funds to do so. The new men's line from Rosewholesale corrects this issue by providing only the latest fashions at affordable prices. The Rosewholesale design team has come up with a variety of new products for men in the following new categories: shirts, jackets, outerwear, t-shirts, shorts, shoes, underwear, and accessories. There is something for every man at Rosewholesale.
With different climates around the world the new menswear line comes with a variety of options for all men. Rosewholesale has products for all climates, whether customers need sweaters and fall jackets in North America, or need shorts and t-shirts in the tropics. The new menswear line has something appropriate for all seasons and all parts of the world.
For added savings Rosewholesale is introducing a new men's boutique category. Customers shopping in this section of the site will be shown products picked by Rosewholesale designers and these products will be marked down up to 60% off. This is a great way for men to find the latest fashions with little effort and receive huge savings.
With October now underway Rosewholesale will be offering even more changes and sales coming soon. The company has big plans for Halloween and customers are encouraged to stay tuned for more information as it will be revealed very soon.
Related link: http://www.rosewholesale.com/
Email: support(at)rosewholesale(dot)com