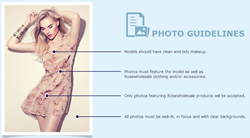 Customers can now store products in their carts longer, and the company giving even more incentives to shop.
Shenzhen, China (PRWEB) September 29, 2016
Rosewholesale takes extreme savings to a whole new level. Like sister sites Dresslily, Nastydress, and Twinkledeals the company looks to offer the highest quality clothing and accessories at affordable prices. Where Rosewholesale differentiates from its sister sites is that it takes savings to a whole new level. The site works directly with manufacturers to get as close to wholesale value as possible, these values are then passed off to the customers. Unlike other wholesalers Rosewholesale does not charge a membership fee. These perks have built a huge following around Rosewholesale and the company continues to see user growth. Today company executives are proud to announce optimization in the shopping cart and new ways for customers to earn rewards. These new updates will better the user experience over time and will give customers gratification for being loyal to the site.
The Rosewholesale is always looking to give customers what they want, recently it came to company attention that many users were frustrated with their shopping carts auto clearing after 3 days. To mediate the situation Rosewholesale executives approved unanimously an extention to the clearing time. Now customers can hold items in their shopping carts for 7 days while they decide if the product is right for them. This should also give customers time to collect funds if needed without having to worry about finding the same products later.
As an incentive to get more people shopping at Rosewholesale the company has launched a new "Share and Get if Free program". The new program will allow current customers to share any product of their choosing through email, social media, and direct links. If a new user signs up and buys the item the person sharing will automatically be gifted the item they shared. The new user will also be rewarded with a $50 Rosewholesale credit for future use. This is a real win-win situation.
Rosewholesale is committed to providing authentic pictures and product descriptions, to ensure that customers are never misguided when buying the company has launched a new "Awesome Show" program. The new program will reward customers for taking pictures of themselves in Rosewholesale products and posting it with their product review. Future buyers will be able to decide through other users if the products are right for them, and the person sharing will be eligible to receive a $20 gift card and fame for being showcased on the Rosewholesale website. Once again this is a win-win situation!
The new shopping cart optimization and new reward programs are just a start for Rosewholesale, the company is setting its eyes on bigger projects and those changes will be announced in the coming weeks and months. Customers are invited to stay tuned for more information.
Related link: http://www.rosewholesale.com/
Email: support(at)rosewholesale(dot)com