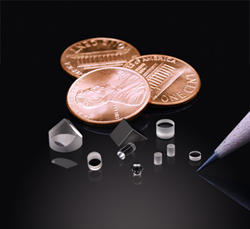 Micro optic components from Ross Optical allow shorter focal lengths in compact medical devices and other systems.
El Paso, TX (PRWEB) February 05, 2015
Ross Optical Industries announced today that it will exhibit its expanded line of plano-concave micro lenses at the Photonics West conference, Feb. 10-12, 2015 in San Francisco. The new line boasts catalog and custom micro optics down to 1.0 mm in diameter.
The growing use of compact, portable and disposable optical devices challenges suppliers to maintain quality and performance while cutting size, weight and cost. Micro optic components from Ross Optical allow shorter focal lengths in compact medical devices, hand-held communication devices, optical fiber transmission systems, instruments and sensors for mechanical and automotive systems, and sensing systems for visualization and gaming devices.
Ross Optical offers a range of other micro optic lenses at diameters below 5 mm:

Bi-convex and plano-convex lenses, designed for forming and shaping light beams
Achromat lenses, precision-fabricated to reduce chromatic aberration
Ball lenses, used in many types of coupling devices
Prisms, shaped to redirect and repurpose light energy
Aspheres, shaped to condition light with reduced spacing and parts count
Micro optics from Ross Optical are competitively priced and backed by in-house expertise in design, coating, test, inspection, and QA. The company provides a variety of coatings that drastically reduce reflection and improve light transmission over the full 200-2200 nm range. Coating is a common challenge in micro optics; however, Ross Optical is able to coat lenses to the edge.
To learn more visit booth #231 at Photonics West, or browse Ross Optical's online catalog: http://www.rossoptical.com/catalog/micro-optics.
About Ross Optical Industries
Ross Optical Industries, Inc. (http://www.rossoptical.com) provides custom, precision engineered solutions for OEM applications, specialty standard lenses, micro optics and other hard-to-find optics. Customers in R&D, electronics, semiconductors, pharmaceuticals, biomedical or military applications look to Ross Optical for their expertise in custom optical and mechanical design, prototyping, coating and manufacturing. Ross Optical is known for cost-effective solutions, and offers overseas sourcing, inventory and inspection to reduce supply chain risk for its customers. Ross Optical Industries is ITAR registered and ISO 9001:2008 certified.