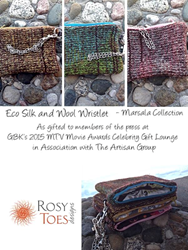 The Marsala palette used in these wristlets brings earthiness with a touch of glamour.
Laura, Ohio (PRWEB) April 10, 2015
Rosy Toes Designs (http://www.rosytoesdesigns.com), in partnership with The Artisan Group®, will be gifting its handcrafted Eco-Silk and Felted Wool Wristlet Clutch to members of the press attending GBK's MTV Movie Awards Weekend Gift Lounge. The Gift Lounge takes place April 10-11, 2015 at an exclusive location in Beverly Hills, California.
Each Wristlet Clutch is handcrafted from eco-friendly recycled silk and Marsala colored felted wool. Marsala, Pantone's 2015 Color of the Year, is a sophisticated yet earthy hue that has been described as seductive and warm. Says Rosy Toes designer and founder Lucy Chapman, "I love the richness of the Marsala palette. I started with a rich, red brown wool and then discovered a recycled silk that complemented it perfectly. The wool emphasizes the organic nature of the palette, while the silk adds a touch of glamour."
The Wristlet Clutches are lined with a fun cotton lining and include a chain strap. The clutches measure 6 inches wide by 5 inches tall and retail for $40.00. They can be purchased online at RosyToesDesigns.com, where they are also available in Banana Yellow, Emerald Green and Cotton Candy Pink.
Lucy Chapman is an accomplished fiber artist and has been creating handcrafted wool items, from beanies, hats and wrist warmers to small-tech accessories and bags since 2009. Her customers appreciate her attention to detail, from carefully chosen straps and linings to high quality hardware. She remarks, "Each piece is a work of art that is built to be used for a lifetime."
Rosy Toes offers many appealing accessories for both women and men, but its bird messenger bags have been striking a note with customers lately. These felted wool messenger bags are hand-needle felted with the purchaser's bird of choice.
"They are perfect for an avid novice birder, lover of songbirds or someone who wants something just a bit different," notes Lucy. "The bags come in different shapes and sizes and can be worn across the body or over the shoulder. They're great for everything from carrying a laptop to binoculars and a field guide. And because they are made from natural fibers, they appeal to environmentally-conscious buyers."
In the coming months, fans of Rosy Toes Designs will see Lucy adding new colors to the eco-silk and wool wristlet collection, expanding her line of totes with fun and vibrant embellishments and growing her collection of custom-made felted sweater bags made from customer's clothing. "With this collection, I take things that hold sentimental value and create something that can be used and enjoyed every day."
Rosy Toes Designs has participated in numerous giftings in partnership with The Artisan Group, including the Primetime Emmy Awards, The Golden Globe Awards and the Official Gift Lounge for the 46th Annual CMA Awards. In 2014, the company had its "Cherry Blossom" Phone Wristlet included in The Artisan Group's collaborative gift bag in honor of Earth Day, which went to some of Hollywood's most eco-conscious celebrities, including Jessica Alba, Emma Watson, Edward Norton, Drew Barrymore and Leonardo DiCaprio, among others.
The company's products are in the hands of Ryan Gosling, Genevieve Gorder and Carie Cucksey. Its Elegant Alpaca Cuffs were chosen by Vogue UK as one of the "must have accessories of the season" and have been featured in Urban Farm Magazine. Read Rosy Toes Designs product reviews and testimonials on the Rosy Toes Designs website.
Rosy Toes Designs handcrafted accessories are available to purchase at RosyToesDesigns.com and select boutiques and juried art shows in the Ohio area.
To learn more about Rosy Toes Designs, visit RosyToesDesigns.com or contact Lucy Chapman by email. Become a fan on Facebook, Twitter, Instagram and Pinterest (@RosyToesDesigns).
For more information about The Artisan Group, visit theartisangroup.org.
ABOUT ROSY TOES DESIGNS
Rosy Toes Designs (http://www.RosyToesDesigns.com) is the home of artisanal quality bags, blankets and fashion accessories handcrafted by fiber artist and designer Lucy Chapman. Rosy Toes Designs has been featured in Urban Farm Magazine, InStyle UK and Vogue UK two months in a row. It has been included in The Artisan Group celebrity gift bags for the MTV Movie Awards, the Primetime Emmys, the Golden Globes and 2014 Earth Day.