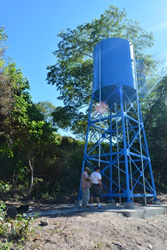 There is a great need for distributed, potable water in Nicaragua and the Salales community is grateful for this project.
Rochester, NY (PRWEB) March 01, 2016
New Energy Works Timberframers and Pioneer Millworks supported efforts of the Enlace Project, a non-profit organization that promotes the economic development of small communities in Nicaragua, and the Victor-Farmington Rotary of Western New York who lead the initiative of providing a pump, chlorination and distribution system for the town of Salales.
The community of Salales, Nicaragua was either drawing water from local streams or from an unmanaged well in the midst of a cattle field. Consequently, a high level of sickness prevailed. The new water system will affect 187 families living along the pipelines. A local elementary school and high school, or about 130 students, will also directly benefit from safe, clean water.
The inauguration of the new water system for the Nicaraguan town of Salales will be February 26th. Currently the pump and chlorinater are in place, and piping/distribution to homes has been installed. Once construction is over, and the water is flowing, a community group will monitor and guide the project locally.
"There is a great need for distributed, potable water in Nicaragua. At the end of this month, I will be traveling to Salales to participate in the inauguration and celebration of this water supply. The Salales community is so grateful for the success of this project," explained Rotarian Karen Parkhurst.
The Salales Water Project is not Victor-Farmington Rotary's first project in the municipality of El Sauce. On her third trip to Nicaragua, Parkhurst, an employee of New Energy Works Timberframers and Pioneer Millworks, was inspired by the sight of solar panels and a well and wondered what more they could do. A meeting with Water Commissioner Yuri Garcia yielded two potential sites for a water project. After completing a needs assessment and appointing a committee of villagers to oversee the system, Salales was chosen.
Fourteen Western New York Rotary Clubs and another from Istanbul, Turkey have provided the funding for the Salales Water Project. Other individual donations and a substantial donation from New Energy Works/Pioneer Millworks resulted from Parkhurst's travel to her area Rotary Clubs to make the case for the project. A total of almost $52,000 was raised to purchase a pump, chlorinator, holding tank, and other various materials including piping necessary to complete the initiative.
Parkhurst credits both New Energy Works and its president, Jonathan Orpin, for introducing her to need in Nicaragua. Orpin accompanied her on her first trip to Nicaragua in 2008, resulting in a $65,000 solar oven project, one financially supported by New Energy Works, Pioneer Millworks, and the Rotary. In 2012, the Victor-Farmington Rotary Club completed a smaller solar panel project in a remote mountain village in Nicaragua.
Pioneer Millworks is the leader in the reclaimed wood industry. To date, they've rescued over 25 million board feet of old wood from rot and landfills, giving it new life as flooring, paneling, millwork, cabinetry, and more. All wood is manufactured in a way that's healthy for customers, employees, and the environment. Pioneer Millworks is FSC certified and Green America approved. All of their products are LEED point eligible.
New Energy Works Timberframers have been designing and building environmentally responsible timber frames across the USA for more than 30 years from their facilities in Oregon and New York. Offerings include: Timber Framing (design, engineering, manufacturing, build), Enclosure Systems, Fine Woodworking, and Recycled and Sustainable wood products. New Energy Works has two LEED AP staff members, is a member of the US Green Building Council, and is FSC Certified.